Digital Marketing Blog

Honesty
September 30, 2011
After almost two years as partner and digital director for the ad agency Honesty I have decided to move on. Earlier today, the last details were taken care of and so I am out. It feels weird, but it feels alright. I made my mind up almost 6 months ago when I spent Christmas with my girlfriend. There are simply other things to life than work, and I need to find a way to combine life at work and away from work so that I can thrive in both.
Leaving 2 years of Honesty
Honesty will move on without me and I believe they will find themselves in good shape. I have loved working with Halebop and Pepsi and haven't ever experienced such strong relationships with clients before. The stuff we've made together has been great and although I am always close to criticizing my work, I am pleased. There have been some great results and some great bumps, but we did what we believed in and what was right to do. Many thanks to Christina and Linda at Swedbank, Malin and Ann-Charlotte at Röda korset, Alexandra at Cancerfonden, Johan and all others at PFO, Lena at Grönt Ljus, Hanna at Mediamarkt, HSB, WGP, Apotek Hjärtat and everyone else who have made me bleed from my eyes and eat 10 Excederin Migraine per day for the past two years.
To my co-workers… Love you.
In the end I was not very motivated and I sort of crashed this summer. It was as though my body knew that I was getting out of it and decided to take a break. Started forgetting things, mismanaged myself, didn't sleep, my bones were hurting to the core, and my head was constantly hurting. In late July I found out I was both celiac, had a bacteria in my stomach and a mouse arm. I'm getting old. My body doesn't like me anymore.
So what will I be doing now?
I am currently living in the US. For now I will be working with SEO and PPC as well as help some old
friends with their strategy. I will also pick up on my poker career and have planned for two or three bigger tournaments this coming year (amongst them the WSOP in LV next summer). I am not allowed to work over here yet so right now I will be spending my time relaxing and…
Finishing my book
Building lego and playing video games
Travelling and meeting people
In the next few months however I will most likely work together with an old partner to finalize a gamification platform as well as a casting platform that can be used for a new type of recruitment process. We are done with the technology parts of them, but we need to package the deals and create a few more cases than we have right now.
In December or early January we will be launching "a thing" that for sure will make a dent in the current web market. I am talking to investors about it and we should be operational on a larger scale in the end of Q1.
April 22, 2011
This blog post is written from the bottom of my heart out of frustration, satisfaction and out of the ultimate affection I feel for one of our clients. I simply love them as people and as a brand.
Launching Bopmodels
Yesterday we launched an application for Halebop – one of our clients. The application is called Bopmodels and is a data driven user interface for creating advertising. The users are able to use existing data they have published on the web to take charge over how they perceive the Halebop brand.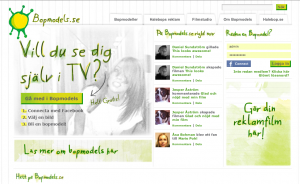 This is the first real attempt I have heard of in the world where a company is daring enough to hand over, without limitations (other than porn, violence and bullying), the rights to users to use brand assets in any way they want. What others have been talking so much about for the past few years, Halebop is now doing.
What is being innovative?
Our agency have received some criticism because we are not innovative enough in digital media. I have taken offense by that as we only work with innovation digitally. My take is that anyone can create a campaign that can last a 2 month period backed by a 1 million dollar media investment. However, there are only a handful of people in Sweden who can create a digital concept so strong that it makes its client money. And I don't mean in the long run. I mean in the direct, measurable, short ROI run.
Halebop is currently strengthening brand equity whilst making more money. That is what advertising should be about and that is what the digital space gives us the possibility to do. Halebop is one of few clients through my 13 years digital career, that I have worked with who fully understands this.
When others just talk about social media, we look two steps ahead and produce something user friendly and exciting from the web of data. You might think that I am punching my chest a bit to much, but seriously, I am sick of people only caring about surface. The future web is not at all about what is seen on the surface, but how you understand, how to use whats beneath the surface. That's how you'll be able to make money from digital advertising.
I am talking about conversion rates, sentiment as a measure of engagement, influence measurements, periodic targeting and a million other words I just made up to express all the different applications of user data there is. The beauty of it all is that it is OPT IN all the way. No more spam. All measurable in dollars.
I am tired… I am soo very tired of stupid advertising. And I am happy, I am soooo very happy, that Halebop wanted to take a different route, that they dared to be different. Every single employee of that company is living the Halebop brand. It is for real, and thus this only makes sense.
Bopmodels builds on Q-Engine by Qubator
Another upside of this project has been my collaboration with Qubator. I have worked closely with some of the smartest people I have met in my life. The engineers behind Bopmodels are not only smart, they are also extremely humble. There are so many small things in this project that could have gone extremely wrong, but finally the app was launched and users seem to love it.
I am not at liberty to give you numbers, but I am satisfied. Conversion rates are through the roof. Anyone who knows me, also knows that I am never satisfied.
The next chapter of Honesty/Qubator collaboration is yet to be written, but we have at least two smaller projects that will be launched over the summer and then we are working closely to even further develop the Bopmodels concept with a richer user experience, more content browsing capabilities and a more simplistic user interface. But we'll have to wait for some more user data in order to decide where people get stuck before making those changes.
Is Advertising dead
Hell no, advertising is flourishing. Social media will never (well… perhaps) be able to replace TV or any other means of communication. We just need to use every media format the way it was intended to be used. You cannot put print online (except if it is in the form of a coupon), you cannot put a flash application in a wallet (oh yeah, they still don't work in iPhones), you should not put a radio commercial on Spotify (cause it needs to be a commercial made for the spotify format).
We need to start thinking. A creative interface and idea is nothing in the digital space without the mechanics and the tactics. Anyone who have worked long enough in the industry knows this.
Some final thoughts
This blog post, as you can see, is written as much out of frustration as it is written out of love towards one of our clients. Yes, I am frustrated at the industry. I am frustrated that I have been talking about the same things for 6 years and that many companies still choose not to listen because they do not understand, or they do not dare. But I am at the same time SO very happy that some companies embrace innovation, enrich it with their perspectives and ideas, and can work out a solution that is as fitting for them as it is for their users.
Bopmodels is one giant step in the right direction. Are you willing to follow?
April 4, 2011
The long awaited Pepsi Refresh Project comes to Sweden. I am happy to say that I am a part of the team working on it. For those of you who do not know what the Pepsi Refresh Project is (or PRP)…. it is a project where Pepsi takes a part of its marketing budget out of the pockets of advertising and into the pockets of you and your ideas. Apply for beta account here (Swedes only)
So how does the Pepsi Refresh Project work?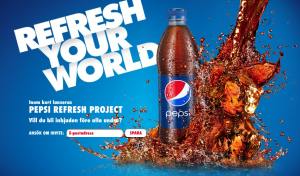 The project aims to give life to ideas in youth and inspire to entrepreneurship and activity. For this purpose, a HUB has been created online where ideas can be posted and gain support. Fair enough and it's heard of before… yeye… I know. But, there is a twist to it.
There are three types of ways to post ideas setup in a game of challenges. Right now, we are using three formats. We have headline challenges, Flash challenges and User generated challenges.
User generated challenges
The most important being the latter of the three, where users have the ability to crowd source any problem or challenge they might be facing in a day. Ok. You have a girlfriend with too much stuff, so you don't know what to give her… challenge others to come up with the idea. You have a grand mother who needs some inspiring fun…. challenge others to come up with an idea. You have a garden with too much space and too little creativity to know how to make use of it… you challenge others to come up with an idea on how to.
Simple enough right? You post the challenge, the other users post the ideas. We give you the HUB that makes this easy to use and to spread. The user who has posted the challenge decides if there is any reward involved and when the challenge ends.
Oh yeah… the best user challenge of the week will receive something nice I'll post in a later update…
Flash challenges
The Flash challenges are hosted by Pepsi. We get too you with a challenge that we pick up from society in one way or another. A user might have suggested they have a problem. We challenge the rest of the users to solve it and add a reward for the best idea published. A flash challenge lasts for 10 days.
Headline challenges
Then there are the headline challenges where we have decided on four specific topics where you will be able to post ideas on how to refresh'em. There will be a significant reward to the person who gets the best idea. Selection? Well, it is a mix of crowd sourcing and expert opinion.
Top 100 gets the chance to compete
Amongst the posted ideas, the top 100 are selected by a couple of gate keepers who, based upon the popularity of the content will select the most relevant to the competition. There might be some late runners who have trending growth on their submissions and thus we need to supervise this so that all ideas have the same chance to get to the last 100 even though they don't have the digital muscle to get enough applauds or are added in the early stages. Not completely perfect as that would have been a user governed system, but we want to give all ideas the possibility to qualify for the next round.
Crowd sourced knock out
The next round is the knock out phase. This phase will see the 100 ideas go down to a final 10 ideas within a couple of weeks. Users decide this process completely. There are some cool mechanisms here as well that give you the possibility to save knocked out ideas and that gives you credit if you're a good supporter.
Final 10 gets in front of a jury
The final 10 wins a sum of money each and gets to go to Stockholm where a jury containing 2 celebs and one expert for each challenge will select the winner who will receive a MASSIVE monetary award towards making their idea come true.
Badges & Trophies
Naturally, we have integrated all the badges and trophies as well as rewards to those who are active on the HUB. If you have an idea on how to reward a user, we might be able to make it happen. So keep me posted on that…
Help us with ideas on Facebook
We are currently building the Facebook Page for Pepsi Sweden. Please join and post ideas on how we can develop the Facebook presence as well as the HUB. We will try to make all good ideas come to life.