Digital Marketing Blog

Internet Philosophy
November 9, 2014
So. Now that you have the framework of "The Index", we can now start moving move into how to apply this thinking when working with digital marketing and PR. Let's say you want something to grow organically.
Well, if you are to be successful, then you have to have the ability to move between nodes/filter bubbles of The Index. But, you cannot move between nodes within The Index, but you need to move in and out of The Index to make this possible.
Or, in other words, your best Facebook strategy, might be running a blog outside The Index, bring people to your blog through advertising on Google, and then let the users share the content back to the Facebook platform.
Topical vs. personal influence
In order to fully grasp this you have to understand the underlying concept of topical vs. personal influence. Topical influence is what the algorithms decide topical visibility on. This means that if a person likes something, they are more likely to get to see more social objects on that topic.
Same goes for people. If a person is considered influential on another person, they exert a personal influence upon that person, and regardless of topic, that persons posts will be more likely to show up in the feed of people they influence.
Or in other words. If you want to market your brand of Cornflakes to someone who is really into another brand, you will have to reach them through a platform or place where their preference is not taken into account.
I mean, think about it. If Facebook or Google knows that you usually eat Kellogs, then why would they want to show you Quakers? You are less likely to interact with information coming from Quaker since you love Kellogs.
Thus, you have to put your Quaker information on such a thing as a blog, an Instagram account or on an editorial website such as a news website or your own website for that sake, which is not indexed or dependent upon preference.
Once you have understood this. That it is highly unlikely that you reach someone who doesn't already like you on Facebook, when you, yourself, post on Facebook, it also becomes logical to ask someone else to do it for you. Someone who exerts a personal influence, rather than a topical influence over the person that you would like to reach.
For the sake of things. Let's call those people or message bearers Gatekeepers. They are the ones who are able to carry your message from one filter bubble to the next.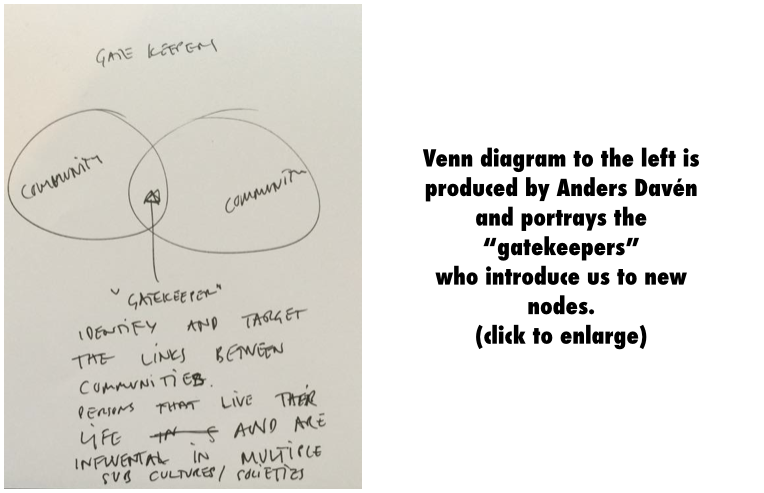 The above vendiagram was produced as a comment to my post about The Index by Anders Davén. I believe it pretty neatly describes what it is that you have to do in order to reach from one node/community/group into another. You have to identify what Anders and I came to define as the Gatekeepers.
The rest of this blog post will help you with understanding what you need to do in order to navigate both the algorithmic/topically driven as well as the personal/relationship driven influence you need to have in order to gain visibility in the digital space.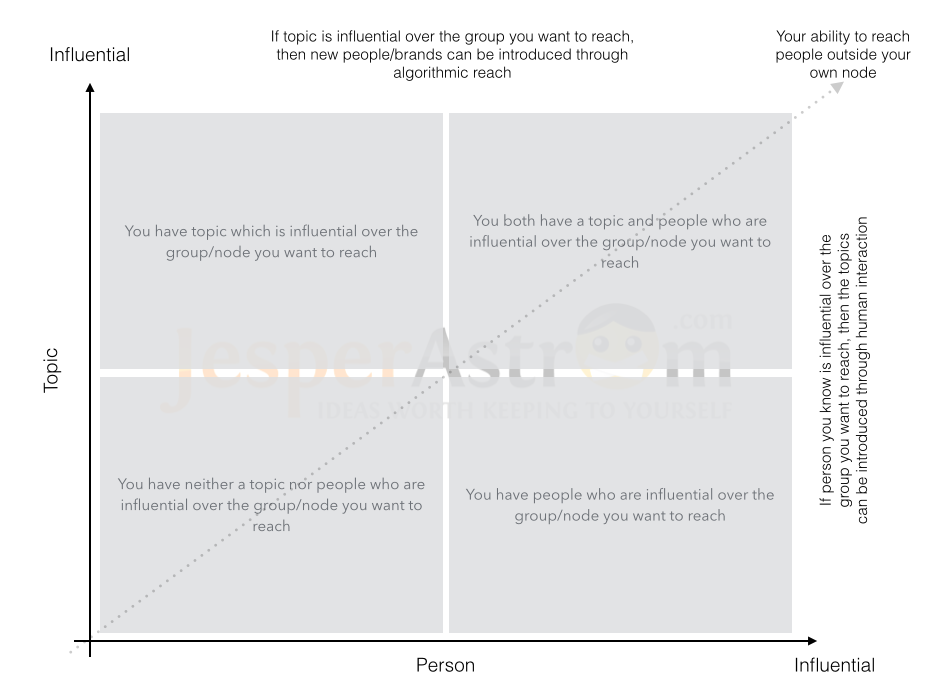 Gatekeepers
There are two types of Gatekeepers of interest:
1. Broad interest – interest broad and active Gatekeepers.
2. Early mover – people who's interest is defined as being interested in new things
1. Broad interest Gatekeepers
These guys are undefinable by the algorithms as they are connected to many different brands, people and things in the platform they are in. These guys are generalists and highly active. They like just about everything they see. They comment a lot, and have a lot of opinions.
In the 1-9-90 model, these guys are definitive 9's for many different brands, products and people. In a sense, I am very much a mix between being a 1 in digital marketing, yet I am very much a 9 in all other areas of life.
As these guys are very difficult to define by the algorithm, and they are very active in many peoples digital life, they also become of interest as their visibility crosses many different filter bubbles. Or in other words, they have so many opinions that they are considered having no opinion at all.
This is where you step into action. You can arm these people with your opinion so that they become more interesting in their dialogue in the filter bubbles they are connected to. They become your Gatekeepers and the ones you have to look out to please.
But you cannot please them with whatever content in the world. If your content is going to make any sense being used as a way to make the Gatekeeper more interesting, then they have to be able to use it as a tool to communicate.
Have a look at my 5 C's of Viral marketing in order to get tips and tricks on how to create such content that they will carry from one node/filter bubble, to another.
2. Early mover Gatekeepers
These guys work sort of similar as the first kind, however, the algorithm has defined them as people who like new and original things. One might suspect that The Index is able to detect them by them being the first ones to post material onto the platform.
In order to get these guys to work for you, you have to be innovative. For example, if you are launching a new product or service, then these are the kind of behaviours you should be looking for in order to get your initial reach.
A good tool to use in order to find them is Ripples on Google plus. You can see where a story started, and you will be surprised of how some people seem to be the origin of most things that eventually reach to you. Would love to be able to do the same visualisation of the social graph on Facebook as I would then be able to tell who I should get into my focus group, beta test group, or who I should limit my invite count to.
The early mover Gatekeepers rock, cause they will see the stuff you haven't been able to build a network for yet, and thus, as long as you can identify them, you will also be able to use them to channel your ideas to the nodes/filterbubbles they are connected to, and influential in.
Common for all Gatekeepers – Learners
The common trait for all Gatekeepers is that they are all learners.
This means that they are subject to you, teaching them how to use your product. As long as you give them the time that enables them to become experts, they will then use their influence to convert other people they are connected too.
This makes perfect sense and is in line with much of the earlier theory about how to build a community through tribe leaders. However, the new perspective here is that we take the algorithms interpretation of these people into account. These people do not have to be tribal leaders, however, they are tribal connectors. They like to play football, AND Dulce Candy make up videos on YouTube. They like to do drugs, AND are for a sustainable society. etc.
And it is perhaps in this area that the perspective of The Index will be a valuable contribution as it takes our focus from trying hard to connect with tribal leaders, into connecting with tribal connectors, in order to ensure our message is shared between nodes/filter bubbles.
So, what should you do with this newly found information?
1. Well, you should start out creating content that is possible to use for starting conversations. Tailor all of your content so that you can put it into context with a "did you know that…" as put forward in the 5 C's of viral marketing.
2. Secondly you need to do your social listening with the purpose of finding out who is a Gatekeeper. You need to start studying who, and now how many people click your ads and engage on your posts. You need to collect their user id's, e-mails and other such assets which enables you to retarget them and test different content towards them.
3. You need to stop thinking of campaigning and start to think of growth. Campaigning is way too risky as you do not know if a Gatekeeper will pick it up and let you in. Rater build on what you have, take small steps and build infrastructure through relationships.
4. You need to have an opinion, and set forth a mission that others can buy into. This mission has to be coherent with the true value of what you are selling. A few "jobs to be done" workshops wouldn't hurt when developing this content as it will put your focus in the right place.
October 16, 2014
I held a talk last night at Hyper Island in Singapore. I had been left with a bad feeling in my stomach over what I have been doing to the web the past few years. My job is to figure out how the mechanics of online algorithms and networks work, and then use them, sometimes abuse them, in order to get marketing results for brands.
It sounds horrible when I say it that way, but it is the way it is. By understanding how networks work, human behaviour, and the algorithms that govern these behaviours, I have been able to produce some fantastic results. Modern day marketing. Growth hacking. Viral marketing. It all builds on the same notion. Just as old school creative, emotional advertising hacked the emotions we guide ourselves with.
My presentation yesterday was about algorithms and how they are filtering our worlds based on what we like. The frictionless web, where we enjoy shit so much that we never have to get disappointed. The counter side of this, is that we do not see things that oppose our current world beliefs. We are only fed with things that confirm our own beliefs.

What I didn't know at the time, was that a person – Eli Pariser (thnx for the tip @infotology) – had thought about the exact same thing, but three years ago. He had given it a nice name. The "filter bubble".
What Eli predicted, is now coming true
However, he saw the first sign and predicted that this would have an impact. Today, we actually start to see how algorithms are effecting everything from journalism to politics. Real shit, that effects us on a very broad scale.
Question such as, why racism is growing in Europe, why some people don't believe in the effects of our pollution on global warming, why IS can reach their intended audience, without being detected. The filtered web confirms bad ideas too. And so, if the algorithm sense that you are into something such as racism, it will start showing you more racist content, confirming your idea that the racist thing is the way forward. Thus cultivating your idea, into a strong belief.
And I truly believe that the pleasing algorithms, demoting opposing opinions, is a big part of this.
The worst thing is that main stream media. The old gate keepers of information are starting to adapt to the world of likes, producing their clickbaiting, like hunting information types in the shape of headlining their websites with gossip, entertainment and buzzfeed tilted headlines.
Yes. I have a bit of a foil hat on when I discuss these things, but as a hypothesis, it would be interesting to look deeper into it.
Why usability is killing the web
In a sense. No one dislikes this development.
The technology companies producing the services, get more popular if they adapt their algorithms to show things people like. The people receiving the algo-edited information, likes it more than having to scroll through things that are "irrelevant" to the urge for solving a quick question. I love it, as I can predict how to work with information in order to get into the news feed of a particular person, how to get on someones radar.
No one really has an incentive to change things. We all have an incentive to keep this going. However, my question right now is, do we have a responsibility to do something about it?
October 18, 2010
There is this thing called augmented reality. It is basically a way for us to connect the information online with the offline world. My guess is that we will not see the implications of augmented reality for another couple of years. Yes, the trials and errors might start next week, but the adaptation amongst main stream consumers are still years away. I think such technologies as GPS and "human" rather than data driven web will still prevail in earning the trust of the intersection between reality and virtual worlds for the coming five to ten years.
However, as data is becoming more and more accessible and as the technologies supporting a mobile and intersecting web of things, is becoming increasingly affordable, I suspect shoppers as well as producers will find an advantage in moving their marketplace towards a more information rich version than today's.
1. Production line app
Some of the first augmented reality apps we will see for commercial use will probably be in connection with some existing data source online. We are already binding products to social media, reviews and other such user generated content and data sets. This will enable producers and retailers to show rich data information about their products when a person aims a screen connected to the Internet towards the products information tab. They will be able to see if colorance E345234321 contains gluten or if there might be a cheaper, yet exact replica on another shelf in the store.
I think the earliest usage of this technique will be about CSR related information. Production lines and how a specific product has reached the shelf where it is currently being displayed to you as a customer. You will be able to compare two or several different products and see how they individually impact the environment.
As we are too stressed out to search whilst in the store, we should just be able to point and find out. Producers with products connected to the web will find themselves with an advantage over those who has not connected their products to the web.
2. Red alert product
Basically my idea about the red alert product was first born when I couldn't find a product in a store that I was looking for. The idea is quite simple. A user types in a product in an app. The app shows a location on the map where you can buy this product. If you arrive at a mall, the GPS indicates your closest way to the store. Once in the store, GPS has little use. However, if you make the correct path to the product – isle sign, shelf, and price marker in front of the product glow red, the customer will find it right away.
Now why would you want to do this? Well, once the customer has picked up the product he or she wants, you can suggest other, complimentary products in yellow. You can also suggest a recipe that contains the product and show the location of the other products in the store. Also, you can push offers, if the person has opted in for this.
I could punch in a recipe for a specific dish and get suggestions for the week. And so on. With augmented reality, we would save time doing it this way. For all of us who don't want to hang out in grocery stores for hours trying to find out where to find all the things to get for dinner, please create this app.
3. Information rich screens
Why the heck would anyone use augmented reality on a screen? Well, let's say we move beyond logins. Let's say we want some things of our websites, our digital display ads outdoors and our indoor TV-ads only be visible for certain individuals. This could be created through augmented reality.
Pick up your phone, point it towards the green area of the TV-screen that displays the offer whilst the ad is running. Take a photo, and show it in the store when you visit next time. Watch a series of TV-ads and collect the photos for a special in store offer.
Better yet. Why should you even have to go to the store at all. When the TV-ad runs, you should be able to point your cellphone towards the screen and order right away, billed through your operator bill. Connecting the mobile to your wallet. This is perhaps the easiest to implement as it only requires you to connect with the screen you're looking at for the moment. Shouldn't be that expensive or difficult to do.
Guess that's it for now. I am sitting here at JFK, and I wanted to spend some time. We'll see how much blogging I will do when I get back to Stockholm. Think it is time for some neat tutorials. Looking through new releases in Magento e-commerce system that I might want to share some video tutorials on.
Possibly related posts:
Related posts on Applications
Related posts on Augmented reality