A lot of us have been talking about it. Very few clients have dared to implement it. Perhaps not that surprisingly, Amazon launched their facebook connect integration yesterday. It is perhaps the best eCommerce integration I have seen and it is based upon Amazons normal way of presenting offers, but with a twist.
You do not only get the recommendations based upon what you have bought. You get recommendations based on what others in your network have bought. This is perhaps an even stronger sales argument. Previously the recommendation was "People who have bought this book, also bought". Now they can use the recommendation "Person x an y in your network bought this book as well when buying that book." They have also included a gift recommendation area which is so good that it almost makes me cry out of joy.
Amazon Facebook Connect Integration – how it works
A user is promted to log in.
On the right side there is the option to connect to your network on Facebook.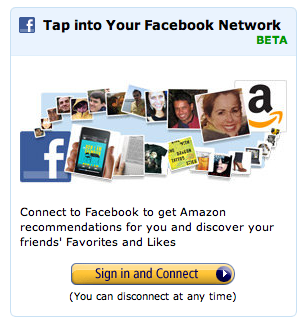 Then you go through the sign on process to connect your two accounts. If you want to do this on your own website it is important that you pay notice to the copy here. They are answering the most common worries amongst Facebook users and privacy advocates. It is extremely important to put another step into the connection process just as they've done here. They both answer the Why should I? and the Do I dare? questions.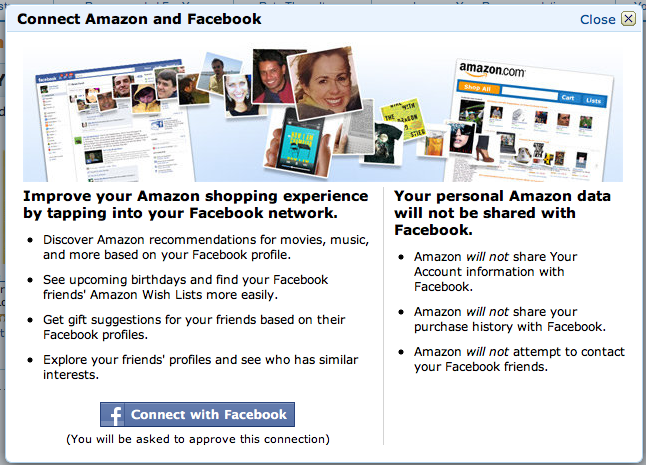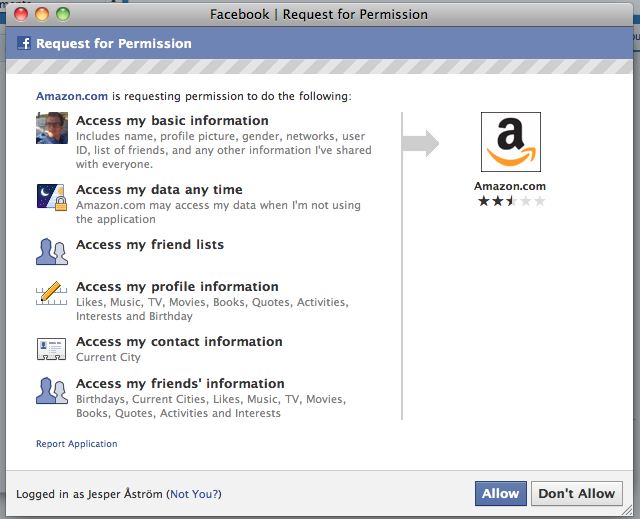 Now the juicy stuff can start to happen. As you log in you get your friends in a list. You get the ones with a birthday on top and you get a couple of other suggestions beneath. Click the image below to enlarge it.

Popular Among Your Facebook Friends
Birthday and Gift Suggestions for Your Facebook Friends
Recommendations Based on Your Favorite Music on Facebook
Recommendations Based on Your Favorite Movies on Facebook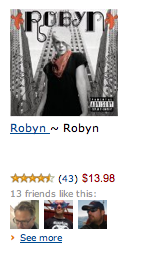 This is really how eCommerce and personalization should work with regard to social networks. Imagine the implications on your margins this could have if you use the OpenGraph API to suggest packages of products based on networks to your site visitors.
Imagine if they have added that they like a specific artist, and you can offer them the same deal as that artist likes.
Perhaps 5 people in a specific persons network have bought one specific camera? Then perhaps that's a good thing to tell the visitor about.
If a person has bought product A but all their friends bought product B as well, then an integration as the above could help out with suggesting this to the person
If someone has a birthday and they have bought stuff from your store to other friends, you should be able to remind those receivers that they can return the favor once it is the first persons time to have a birthday
The extensions of eCommerce in a social environment are limitless. You will earn loads of money and since you don't have to maintain the database/CRM yourself, as it is hosted, managed and updated by the users themselves, you don't have to worry about your investment growing old either. Data has gone from being an asset into being a common good. It is what we do with the data that creates value or doesn't create value.