There are a couple of ways in which you can and should extend your Facebook Page. Especially when you're working with driving business through you engagement in the social web. Remember that most of your business/sales are conducted through an opt-in scenario where you should keep your target person entertained, happy or inspired until they are in the mood of buying. That way you'll make sure you're top of mind in talks about your sector or when the person him-/herself is in the mood for buying.
Adding the FBML-control to your page
The first thing you should add to your Facebook Page is the FBML possibility. That way you can add links back to your website. What you do is you click the Edit page option on the left hand side of your page view. Then you go all the way to the bottom of the Edit page view. The very last box says "More Applications". If you didn't add the FBML option in the last tutorial, then it is time for you to do that now. It should be readily available for you as one of three options. Otherwise just hit the "Browse More" option of that box.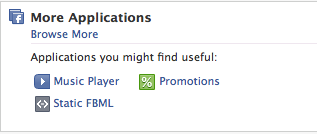 When you click the Static FBML option you'll be taken to the application page view. In the top left hand pane, just under the application logo you have two options.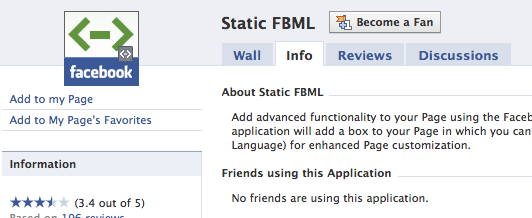 You can either choose to "Add to my Page" or "Add to My Page's Favorites". If you want to add this functionality to your Facebook Page, then you'll have to click the Add to my Page option. If you want to add a link to this application from your Facebook Page then you'll have to click the Add to My Page's Favorites option. You can also choose to become a Fan of this application which will guarantee that you'll get any updates this application releases into you news feed of your user account.
I generally chosse to Become a fan and Add to my Page in order to add the functionality yet never miss out on any updates.

Once you click the Add to my Page option a pop up dialogue will become visible. This is for those of you who run several pages on Facebook. You'll be able to select one or several pages to which you can add the application from this view.
After clicking Add to Page you'll just have to close the window and return to the Edit page view of your Facebook Page.

There you'll find the FBML box added as one of your applications and you should now activate it in order to start using it. In the Edit option for the FBML control you'll be able to run html-code or fbml code. Choose a title of your liking and then start out by entering some links back to one of your websites outside of facebook.

Then go to the very bottom of your FBML edit page and click to Save. If you want to add more than one FBML boxes to your page then use the link at the bottom left of your edit screen to choose or add more FBML editor elements.

You should now go into your Application settings and activate your FBML box as a tab and then choose whether or not you want it to be able to post to your wall. That way you'll cover all activities you might want to achieve with the standard settings of a non-sponsored Facebook Page.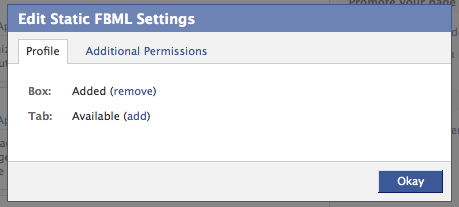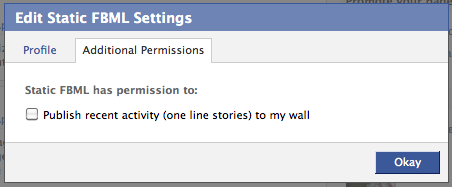 Now you'll get the all so important "Link to this Tab" option available from the Edit page view. That way you'll be able to attract interaction with this tab from other places on the web where it might seem suitable. This is one of the strongest ways to promote your facebook page towards different audiences. Create a Tab, then get the traffic that might be suitable for that tab onto there in order to increase the chances of them becoming a fan of yours.

Moving the Applications box to the left hand pane
Now i know some of you are thinking that you want to add your applications and link box to your left hand pane of your Facebook Page. This is not difficult at all. Your FBML application created a box that can be found under the Box tab in the top tab navigation of your Facebook Page.

If the Boxes tab is not available it is probably because it is hidden to you. You should easily be able to access it by clicking the >> sign and selecting it from the drop down list that will appear.
In your Boxes tab you'll now be able to find a a Link to my website box which was the name I gave my FBML box. Just click the little "pen" in the upper right hand corner of the box and select the option "Move to wall tab". That way you'll move your box to the front page's left hand pane and the user can reach it as though it was the left hand navigation of your website.

Now browse to the wall page of your Facebook Page and you'll see the box with the link available to you on the left hand side. If you want to move it up or down just drag and drop and you'll see the boundaries of this box settings.
Adding another Admin to your page
This is pretty simple. After adding some more boxes and applications to your Page then you should start out recruiting some more admins. Perhaps start out with your girlfirend/boyfriend and then continuing with some other people you find suitable to manage, update and have fun with your page.

Simply click the add button in the top right of the Admins box and search to select the user you want to become admin of the page.
Rember that the biggest difference between a group and a page lies within the fact that you can update your Page as your Page and not as an individual which is the case in the group. Since the new Groups became available this is the biggest difference on a usage side. As well as the applications, but I am sure FB will do something about that in a while. And offcourse the Sending InMail to the group members which sucks that you cannot do from a Facebook Page. Would be such a good thing. Sigh… however… Facebook continues to separate the pages from the groups and I am sure they have some reason to do it. Or dont… either way, they decide and I should really use another article to talk about the differences between the two.
Continuing as many times you want
Now you can extend your Facebook Page with mostly any kind of application out there. I would recommend that you add a couple that integrate what you do on Facebook with other platforms such as Twitter, tumblr, digg and where ever you are highly active. That way users are able to follow you on facebook whilst you're active on several different platforms. That way you'll also be able to "rally your troops" when you need to.
Please suggest some Applications that you feel a Page owner cannot live with out in the comments field.
//Jesper