Are Facebook Ads the new Black? Well in this post we take one step into creating your first Facebook Ad campaign. It is not a complete guide but it gives you those first steps and hints on how to create and target your first Facebook Ad Campaign.
To start off, Facebook Ads are not something you should start out doing like you target keyword searches in normal PPC campaigns. If you do so you will most likely fail, or run super expensive campaigns. I ran my first Facebook Ads campaign with a voucher. The complete budget was spent in a day and although I had gained 100 000 something displays of my Facebook Ad, I had only received 2 or three clicks. What did I do wrong?
Well I basically paid no attention to who I wanted to reach, didn't target the Facebook Ad and didn't take any precaution to the creative I put into the ad layout. My ad was refused a couple of times and the negotiation I ended up with was not worth the light of day. So, spend some time on the Creatives and try to find YOUR true fans on Facebook with your Ad. I hope this short tutorial can bring some light of day into your Facebook working life and perhaps remove some of the hurdles you see in order to start out with your Facebook Advertising.
1. Set up and start up
As with everything on Facebook you should start out by setting up something. Ads are probably the easiest thing to Set up and they start running right away as long as you follow the Ads guidelines. Basically, the only thing you have to consider is the image you use. It should relate to the topic of your ad, and to the page you are advertising. If you are advertising a page on Facebook, they are a bit more lenient than if you are marketing a page that isn't on Facebook. We'll get to the Facebook Ads strategy bit later in this section though however.
You'll find the ads section in the bottom left of your browser window.

If that icon is not present for some reason you can find the "Promote with an Ad" link just under your Facebook Page logo.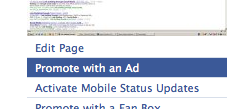 Just click the link and it will take you to the design phase of the Ad setup.
Design Your Ad for Facebook Page
If you are administrating a lot of Facebook Pages you will see all those pages in a list in front of you. Select the Facebook page you would like to advertise and come up with a creative text. Best practice examples of Facebook Ad Texts can be found here. The title will be set as the title of the Facebook Page you want to promote.
Select page you want to promote with an ad
Write a body text that is a maximum of 135 characters including spaces (best practice link above)
Select a relevant image to display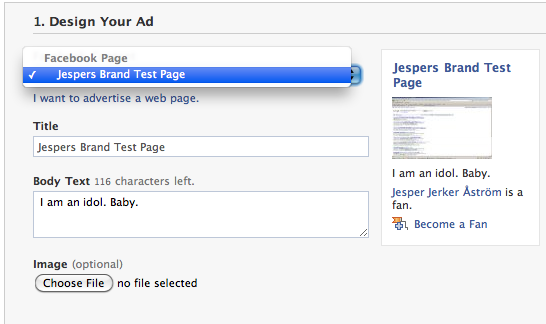 Design Your Ad for a Website
If you want to advertise a Website instead of a Facebook Page (something I strongly advice against), you should click the link just below the "facebook page" selection drop down that says; "I want to advertise a web page".The main difference between the two ad designs are that you can choose a title freely when you are advertising a web page.
Choose a destination URL
Choose a title
Write a 135 character body text (best practice link above)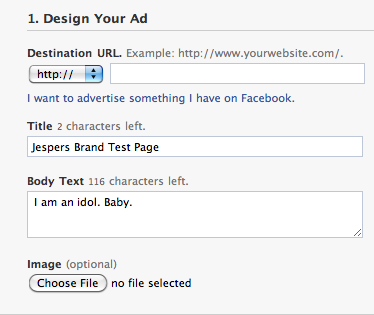 If Your Facebook Ad Creative is Refused
Don't worry, it happens all the time. Facebook is quite strict on how your ad can look and if it is really relevant to what is on the landing page. Their soul ambition is to show ads that are relevant to the users and thus the user has to get what they expect when they click the ad. If you are refused, or your ad is, then simply change it. You will get most of the hints as red text when you are creating the ad.
For example, if you use certain words you will be prompted to change these. If you are using CAPITALIZED letters, you will be asked to kindly convert into lower case letters etc. Read the Facebook Ad Guidelines and the Facebook General Terms of Service before you start. I won't rewrite them here as that would be a terrible waste of time. They can be located to the right of your screen whilst creating the ad.
Targeting Your Facebook Ad
You will now be asked to target your Facebook Ad towards a specific group of people. Now the fun part of this tutorial starts as I am going to share one of my most recently tried tactics. But let's start out by looking at the options you'll have.
Choose a country to target. Remember to make your ad as narrow as possible. If you are targeting several countries, you should target with several different ads. Thus choose a City if you can.
If you are selling something that can be given away as a gift or if you have gifts on your page as a part of your strategy, then target people with a cadeau on their birthday.
Select gender
Select Keywords you want on the pages where you want your Facebook Ad to be present. If you're working with candy, then perhaps you would like to be accessible on pages where they write about "sweets", as an example. Or perhaps you are working with dating. Perhaps you should only be available to people who has a status as single. Choose your keywords carefully. Rather have them more narrow than broad.
The sickest thing you can do is to run B2B ads towards people who have listed they work at a specific company. Want to recruit young people from a certain employer? This is where you should focus!!
I won't go through them all, but at the bottom you will find the count of the audience you're marketing towards at all time.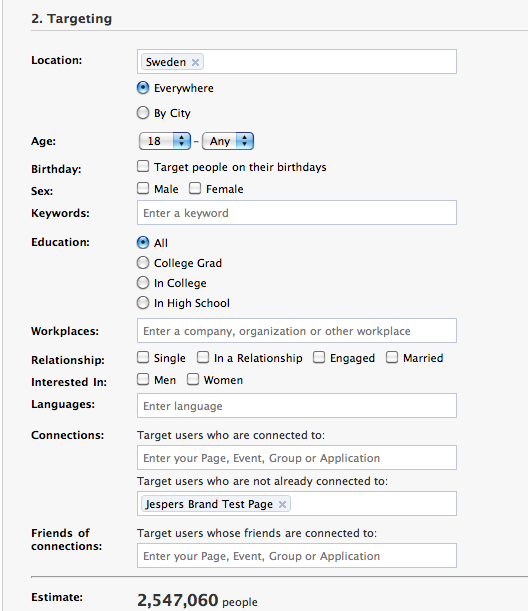 The next step is choosing a CPM or CPC plan for your payments. I generally do a CPC based structure until I know the target group or until I have found a really great creative. Generally some of your ads will be cheaper if you buy them on CPM. Always watch your CPC/CPM ratio to make sure that you are not paying more per click than your current CPM level is at. Or. If your CTR is above 0.001 and you have a CPM that is higher than your CPC then you should consider changing your ad tactic from CPC to CPM as this will save you money.
For those of you who do not know CPC stands for Cost Per Click and CPM stands for Cost Per Milli or cost per thousand exposures of your ad.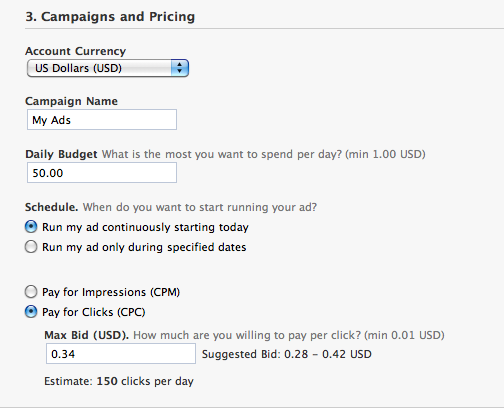 A smart targeting tactic For your first Facebook Ad Campaign
I suggest you don't market towards a website. If you do you are not utilizing the power of Facebook to its full extent. You should really try to create a customer base, or a fan base on Facebook, then help them grow your presence organically. Your Facebook Ad tactic should thus be targeted towards creating engagement on a page. If you take the traffic to website you need some kind of membership registration there or some kind of subscription possibility. Otherwise you'll just burn your money. By getting fans of a Facebook page you have actually made an investment rather than burnt the money on one time marketing.
In order to get the people you want to strive towards engaging you on your page you need to give them some kind of incentive. You will always gain the brand lovers, and they really give their all for you. But in order to reach the masses, especially if you don't have an established brand, and you want to spark engagement, then here is a way to do it for you.
Always start out thinking of who you want to reach with your Facebook fan page.
Then think about who these users look up to and what kind of people they would desire to meet. If you don't know. Go to Twitter and ask. It is these people you should target your ad towards.
If you want to reach computer guys, target the good looking women, if you want to reach the poker players, target the poker pros or stars, if you want to reach people buying computers, target the people working at computer companies
You have to really research this "bait group" of people, find something they like and then get them to join through your ads. Here is where you should burn money.
You should target these people as they, since they are experts, or since they can add attractive content to your page, Your page becomes A LOT more attractive to the group you really want to reach and thus your job to get the masses later will be A LOT easier cause what they desire is already present in the group
Once you reach about 500 members shift your targeting towards your target audience you really want to reach
All you publish on the page til that time should be targeted towards bringing interaction on the page. The simple rule you can follow in order to spark interaction is to 1. Make a promise in your status update, 2. Post an external resource like a YouTube clip or a web page from one of the fans sites and 3. End your status update with a EXTREMELY specific question that puts a divide in your fan base. I will post something more on this topic in a later post
But that is just a tactic I use. If you want to target your main audience right away you should. It just takes a lot more time to take your Facebook Page from many Fans to a humungus amount of fans :).
2. Engagement and shift
When you decide to do the shift do it publicly and announce on the page that you are now advertising the page towards a new group of people. Ask the Page fans to welcome the new group of people. Remember, if you build relationships between people you will always be a part of that relationship. That's the strongest bond you can build with a customer.
3. Facebook Ad Optimization and user generated ads
Once you have run your ads for a while you need to start optimizing them. Try out many different creatives such as new images and new texts. Use one creative for one week maximum, then change it. Try to hit different calls to action for each attempt. Ask your Page fans why they are a fan of your page and ask them to come up with smart creatives for your ads.
Seriously, USE the guidelines and recommendations that Facebook provides. They earn money on a lot of clicks and thus you should really pay attention to what they are saying as they will help you attract more fans to your page.
4. When to stop advertising
As soon as you feel you have nothing new to say, you should stop advertising. Remember that you can get your Facebook Ads up and running as soon as you get the next excellent idea. Don't advertise for the sake of advertising or for the sake of burning December budget. Advertise when you have something to say. Remember that your fans will only be as good as your targeting!
5. Simply cause there has to be a five
There are a million things to try out here. It is actually kind of cheap to do Facebook Advertising. I strongly recommend you do it as a kick of for your Facebook Page at least. See… This was really simple, and considering the amount of questions I get about it, I am amazed not more people seem to just try it out. So to all of you scared souls out there. Facebook Ads are fun, easy and cost little to no money 🙂 Run them for a while and see what happens.