As you can see from my "random" partial screen print (yes you can do that if you own a mac), LinkedIn has added a new little feature on the company profile page. If you know people at the company, they have always been visible on top in the current employee box. However, now they have added the smallest of small texts saying "In common:" underneath each professional.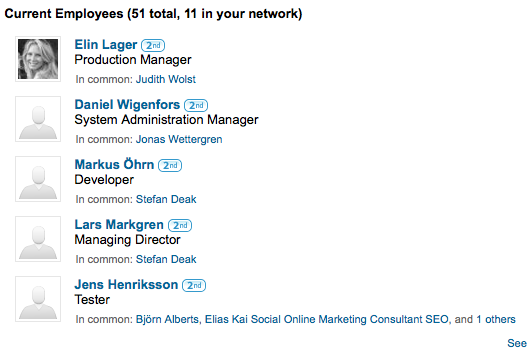 This feature is a small change, but also a great change. Finally you can easily browse if you know someone at a company before deciding who to contact to make a pitch or apply for a job. Sometimes greatness isn't spelled with a capital G but with the smallest of sneaky improvements.
Basically it is a new kind of display, much like this one was previously:

I must say at this point that I am stalking neither Elin Lager or Judith Wolst. They just happened to be a part of my example as I was stalking the Midasplayer AB profile on LinkedIn after some interesting clicking behavior from that "network host" on my blog. I am just using them as a part of my example, and I hope they don't mind.
That's besides the point though as anything is fair in the name of Tutorials!!!!! 🙂
Have you been able to find any other updates to LinkedIn lately? YouTube are on a spree of updates and I will post more about them later here on this blog.
//Jesper
Possibly related posts:
Related posts on LinkedIn Recruitment
Related posts on Social features