Extending keywords is a practice where you extend the concept of viewing your keyword as a theme. As it is meant to define your page, you should really try to include whatever words can complete your theme. If your main keyword or theme for the page is car insurance for example, you should think of whatever other words are related to car insurance.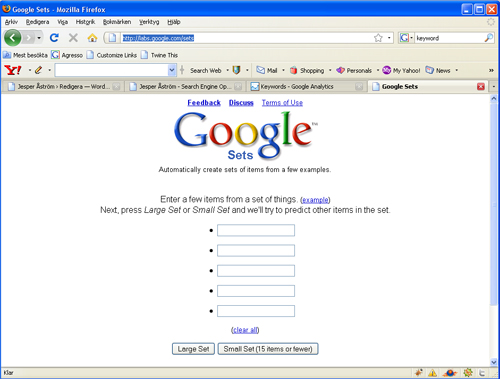 Such words can be found in either Google KeywordTool or by using Google Sets. You can also search for you page keyword and look at what pages end up on top in the search engines. What other words, related to the word you are working with, are included in the top three results. I generally use SEO Quake to find what words have the highest density on top ranking webpages for the keyword I am pushing for.
Once you've found your extensions
For a keyword such as car insurance we have some supporting extensions that we can use right away such as "used cars", "rental cars" and "new cars". All these three extensions can provide different aspects of your keyword. You can write an introduction that focuses on your keyword, then use the extensions to create sub-sections and paragraphs including your extension keywords.
For all the extending keywords you decide on using, you have to create a main page. Although they are supporting keywords, as they are related to your keyword, they are also important if you want full coverage for the audience interested in your main purpose – car insurance.
IMPORTANT: You will eventually find that you will have pages where you want to use the same related keyword. Please do so, but ALLWAYS link the keyword on at least one occation from each page you use it, to the main page for that supporting keyword.
You will also find out that it will become difficult to keep track on what words you have used and on what pages they are supportive extensions and on what page they are the Keyword. Best way of keeping track of this is to produce a visual SEO-map as well as an excel spread sheet. The spread sheet should display the key words and their supportive words. The SEO-map should display how different pages are linked to eachother. More on this in a later post.
Possibly related posts:
Related posts on Search Engine Optimization