A keyword site-map should be created for any web project you engage in and that you aim to launch through the search engines. Not to confuse with the Google XML sitemap that should enlist all your web pages contained in your website, the keyword sitemap should contain:
all your used keywords
on what page your keywords are located
how different pages are interlinked
what external links you look to attain for each page
what internal links should point towards this page
it should also show what co-citation cluster you want to put your page
You should start out by listing your most important keywords. Then find their semantic neighbours by using Google Sets or Google KeywordTool. Each main page which a designated keyword needs to contain three sections: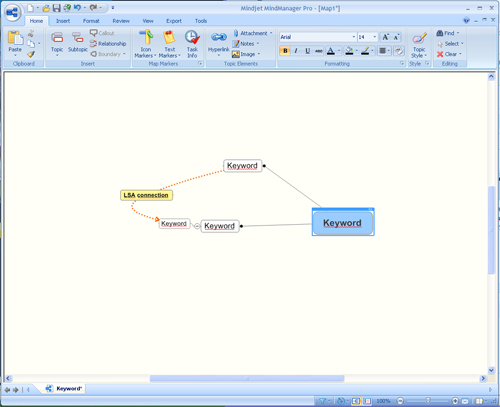 News section
Some information that changes regularly because you want users and the search engine spider to like this page, return to it often and think of it as relevant and important
Density section
A keyword dense section that is on top of the page, highly dense with the most important keyword and variations of it – NATURAL, so that it gives the reader a good flow – remember – you want them to link to this page – tell them why in this section
Related page section
Focus on which pages you think completes this page, Latent Semantic Analysis (LSA) tells us that you should use clusters in order to show authority – ie. you know a lot about the topic and hence you can provide internal links to further reading on different perspectives of the same keyword – ex. rental cars, used cars, car insurance, car financing etc.
How these sections correspond with eachother over your website is VERY important as you do not want ANY duplicate content which can be the result of some news feeds or sidebar-creations that provide the same site-wide includes.
Sometimes it is good to have a link in a site-wide navigation. Some times not! The important knowledge that the keyword site-map gives you is that it really has you covered. A place where you can check what is used and help you plan updates and new production of your content.
My tools for a keyword site-map
Excel – or other spread sheet to keep track on what words I've used under each section
Mindjet Mindmanager – to show how different pages are linked to one another
Best of mapping!
Possibly related posts:
Related posts on Search Engine Optimization