There has been some discussion lately about using Social Network websites for CRM purposes. Besides the relationships you build when engaging in social networks, you sometimes need som kind of industrial model to go when trying to convince your bosses that this is actually simplifies your work.
The added value being that the users update their own "customer cards" as they update their profiles -> hence you save the maintenance costs of having your own CRM database.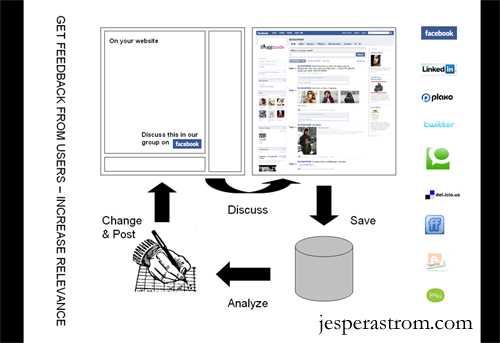 Testing content
The whole idea started molding in my brain in 2006 when I wanted to test content on the users our social network Globy. I wanted to ask them for their opinion and discuss the content with them. We would then save the data and analyze it. Then we would change what we published and post it as new content. NOT!!
Quite frankly, we didn't have a clue what we were doing, we where just doing it. We had our own social network and we thought we rocked. This was three years ago and we were making a buck running viral e-mail campaigns. Our failure however got me realizing that there was something greater with social networking as some succeded whilst others (read Jesper) failed terribly.
The above model came out of my conclusions. And I will shortly explain it below.Some needs before you start:
A website to publish content on
A social network group or page – in this picture a facebook page
An excell spreadsheet – or a database
A weekly meeting session
Posting content
Post some content on your website that ends with a question. It is important that this question is not based on "what do you think about this?", but it is almost a statement or a conclusion. This conclusion should try to extract a reaction from the user. They should be for or against.
Then publish an icon that leads to your social network group or page. "Comment on Facebook". (With Facebook connect this can be done directly on your website. But more on that later when I get my screen recorder working.)
Discussion of the content
In the group or on the page you should post a thread that encourages discussion at a certain place. Link the icon from your website directly into the discussion –> not to the start page of the group or the page.
Save everything
When I say save everything, I mean save EVERYTHING in a spread sheet or in a database. Make sure you have one field for user name and one field for "In response to user" (where you can add a user name of the user that the initial user was interacting with).
Analyze the data
Are there any people that are interacting more than others. Are there users interacting more with eachother than with others. Can you identify anything in particular? Any words used more than other words when discussing your products or content?
This is done very easily if you use excel and three fields. I've actually enclosed such a file here. (It is really simple. From this spread sheet you can see that Jesper and HisEgo likes discussing with eachother and Someuser loves the website whilst Someotheruser really hates the same.
Use analysis to produce more relevant content
There are several ways you can use this data. I will list a couple of them below:
Use the keywords that the users are using -> this is probably what keywords they also use when they search and thus when using them you will better your performance in the search engines
Use the relationships that you see between users when inviting people to offers, competitions, focus groups etc. If you see someone who is very influential -> give that person special treatment and the rest will want to fall in line (I know that is wickeidly put, but I think you get what I mean deep inside)
Use critique to change your products -> or to better describe your products so that people know what they buy. Anyone who knows what they buy will not be dissatisfied.
Use promoter stories for storytelling on your website
Concluding remarks
Well. It is a sunny Saturday here in Stockholm, Sweden. I am soon to go to a friend and watch el classico between FC Barcelona and Real Madrid. All though this model is not that profound I wanted to share it with you if you have problems at your company trying to explain Utility of social networking. More will come, and if you have any thoughts please make comments, write a blog post of your own etc. and we'll soon be able to talk about these things as natural parts of any online business.
Product develpment with users is really easy. All you need is Excel, a website and the will to imagine your social networking as a CRM activity.
//Jesper