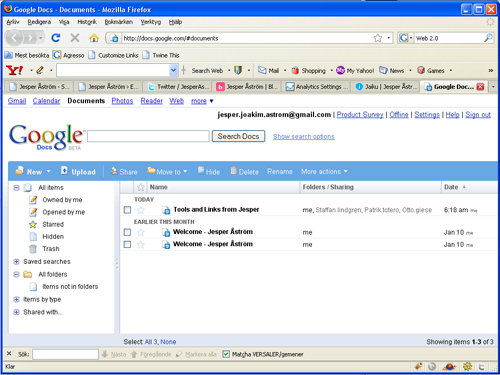 Here you see a picture of my newly added Google docs account. If you are working with any type of affiliate marketing this is the best launch pad for your viral campaigns. Using this, the pirate bay and YouTube, you can create an under ground viral campaign targeting special target groups.
How to prepare the Google Docs viral campaign
Create a Google Docs account. Depending on what your purpose is, you should create a user name that sounds pretty under cover. For example, if you work with sales of computer games or web hosting, you should create some kind of techy name that plays upon some well known profile within a game or within the industry.
Once you've created you Google Docs account you should create a document that you call "Secret campaign codes" or something in the same name vicinity.
Now you have prepared your Google Docs viral campaign.
How to launch the Google Docs viral campaign
You should round up some white-papers and put them in a directory that you seed through The Pirate Bay. Enclosed in the directory you should put a "ReadMe" .txt-file. In the .txt-file you should enclose an e-mail address with a complimentary text such as:
[Your gmail e-mail] Shared Google Docs file on [your topic + bonus codes, cheats, discount codes etc]
You should give your upload such a name that it becomes findable for your target audience. If it is a video game you want to pull traffic too, then it probably should include the video game name and "cheats", "unlock", or "keygen" in the title.
Now launch your campaign by seeding it.
How to make your Google Docs viral campaign turn viral
You simply do this by allowing who ever is added to the campaign to spread it to other people. You should even write something like:
Invite a maximum of two friends per person, no more. Remember we want to keep this list to only initiated people. Don't cheat, I will notice.
…in the head of the document.
Then add what ever affiliate links you can find and produce that leads to special deals.
These kinds of campaigns can be launched through a variation of social media websites in many different ways. If you want more information on this you should e-mail me at jesper dot joakim dot astrom at gmail dot com and I will add you to my Google Docs, where I share different viral techniques for social media.