I am reading the Adobe Scene 7 Viewer Study. A very interesting piece of information about what people need when making a decision to purchase something online in a few given situations. The study is quite limited to apparel, at least from what I have been able to consume this far. However, there are some data interesting enough to put into some light.
75% finds it Highly useful to be able to Alter products
75% wants to be able to alter looks, and customize their products before making a purchase. Or, they at least want the ability to do so. Also, 50% find it highly useful to have a live chat possibility with a customer support. Not surprising, 88% find customer ratings and reviews as important or helpful when making a buy online.
This is not that astonishing, it is not even surprising. It confirms that people want to be involved in making well informed decisions when they purchase stuff. These elements are the ones that help simulate an offline environment in a purchase situation. As we are used to buying stuff in an offline environment and not in an online environment. These things make sense to us, and are thus preferred when deciding to buy.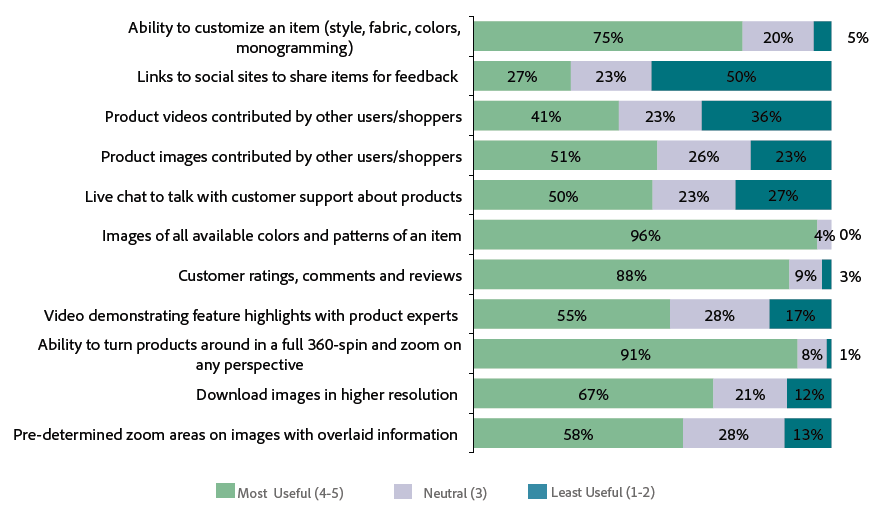 © Adobe Systems Incorporated. All rights reserved.
A Whoooooping 27% find it useful to share
One thing that is highlighted in the graph above is that "Interestingly, links to social sharing sites whereby one can share an item of interest with friends and family only came in at 27 percent."
For me who has worked with social media for quite some time, this is not an ONLY, this is an AMAZING. In the early stages of social media integrations, only a couple of percent (about 3%) found it useful to share stuff when making purchasing decisions. About 1-2% actually did share. Four years later, this number has grown to 27 percent and we can really see the direction of this. If I would have a website where 27% would find it useful to share stuff before making decisions I would JUMP HIGH OF JOY!!
Although I have seen an increase in sharing on my own websites to about 5% of the traffic, I still couldn't believe that 27% percent find it useful when making a decision. I mean. It is logical. It should really be higher. We all need confirmation sometimes when making decisions. But, 27% percent that find it Most Useful. Sweet… Social commerce… here we come!
I sincerely recommend you to browse through this report. You can find it from this page.
To ask questions about this study go to Adobe's blog about it.
Possibly related posts:
Related posts on eCommerce
Related posts on Social Commerce