How to Grow Facebook Groups for Business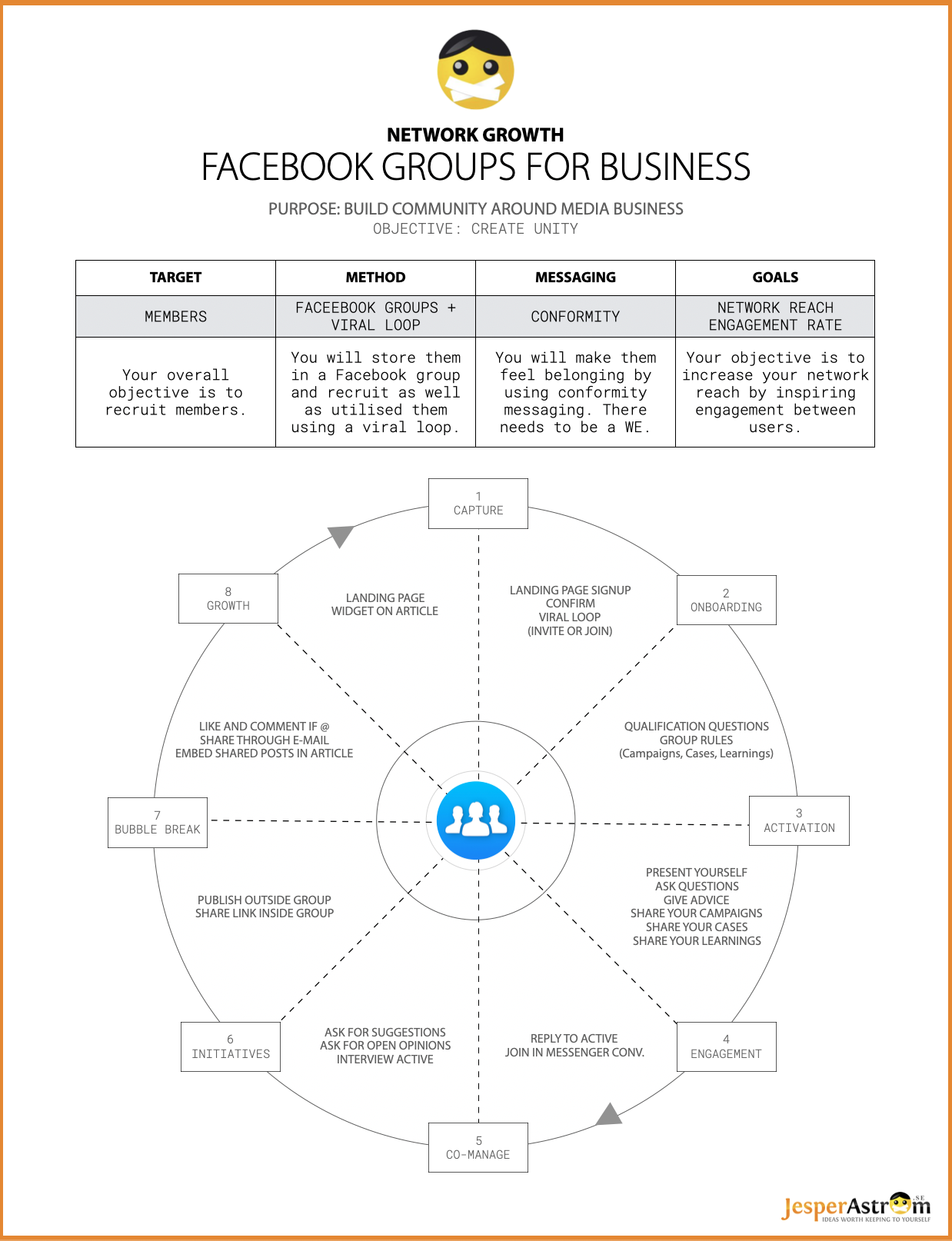 Why do you need a Facebook Group?
The reason you need a Facebook Group is to primarily nurture the relationship with people who are interested in your brand or products. The benefits you get out of it is creative content you can use, insights for product development and a natural growth engine and content distribution network.
How to setup a Facebook Group for Business correctly?
There are a few steps involved in setting up a group for business the correct way. There are especially a few things you should prepare including:
Name your group
Create a group description
Prepare Group Cover Photo
Rules for the group
Prepare questions to join Facebook Group
Pinned post in Facebook Group
It is not that difficult to setup a Facebook group correctly and if you are properly prepared it will take you just under 15 minutes. I have prepared a preparation template you can download to make it all easier. You reach it by clicking the photo to the right.
Download the Facebook Group preparation template by clicking the image!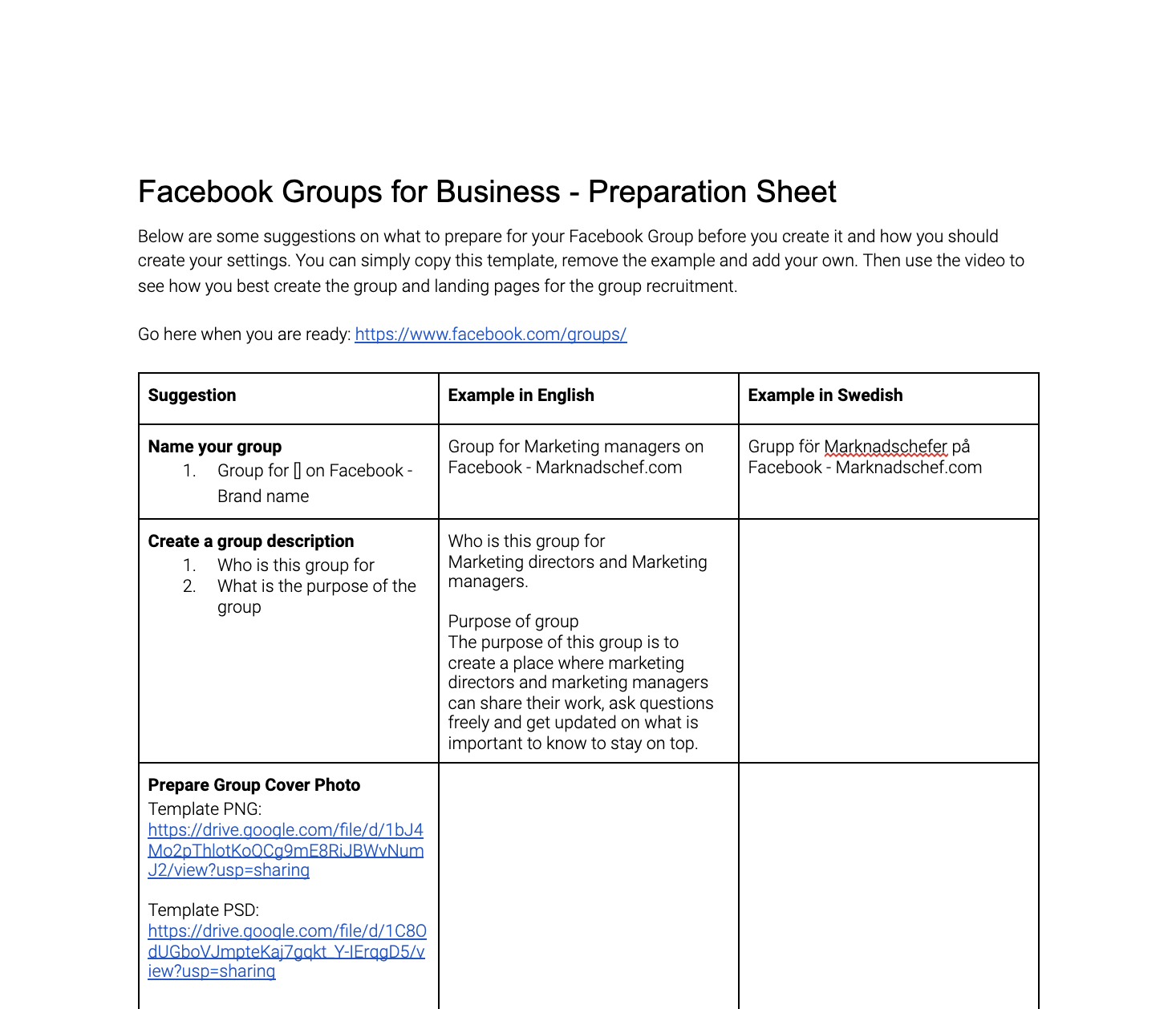 How do you create a nice looking Cover Photo with the right dimensions?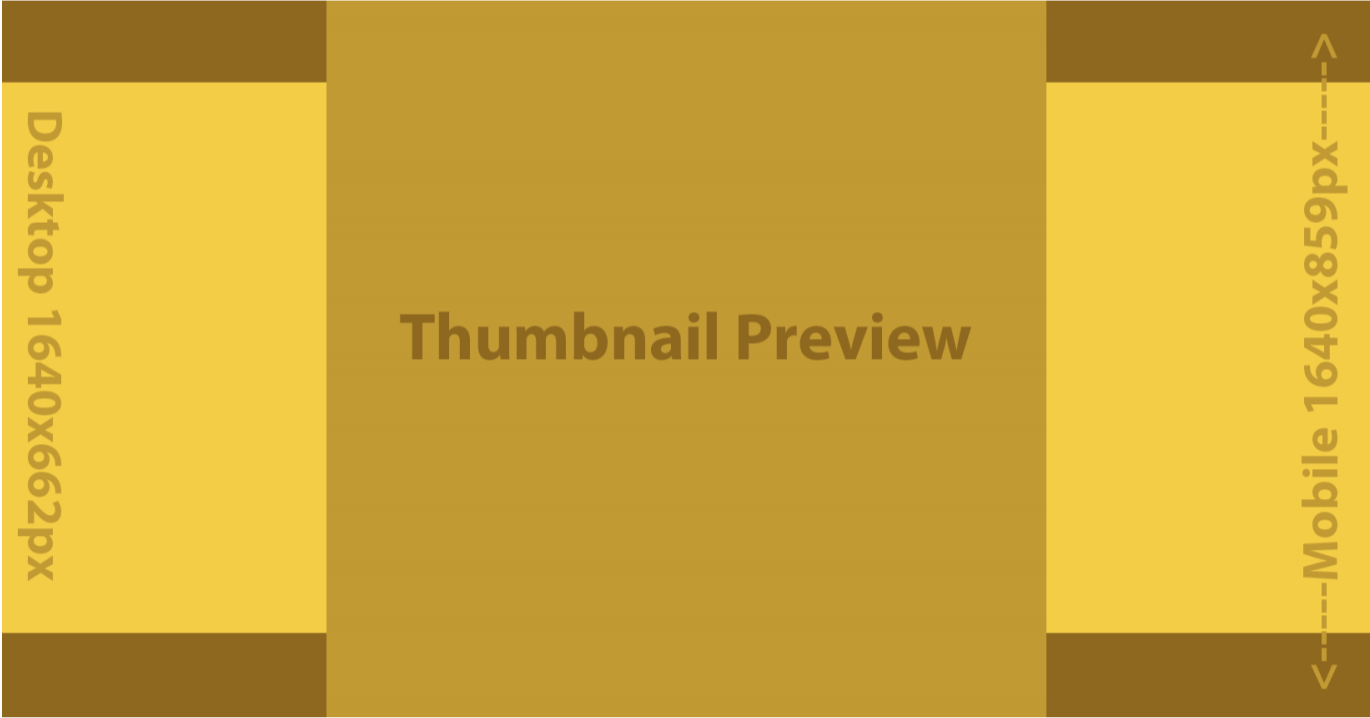 Cover Photo Template
(click image to get to folder with the latest versions)
The correct dimensions for a Cover photo for Facebook groups is quite tricky. There are a few things you have to consider. You see them visualised in the photo below (mobile) or to the right (desktop):
Mobile dimensions are 1640 x 859 pxls (which is different than what FB themselves recommend)
Desktop dimensions are 1640 x 662 pxls 
The thumbnail for the group is cropped to the middle of the cover photo. It is thus a good idea to put your logo somewhere in that place.
There is a .PNG-format for the cover photo and a Photoshop template for the cover photo for the facebook group that I have uploaded into the folder that I have linked to if you click the cover photo template image.
Facebook Group Growth Process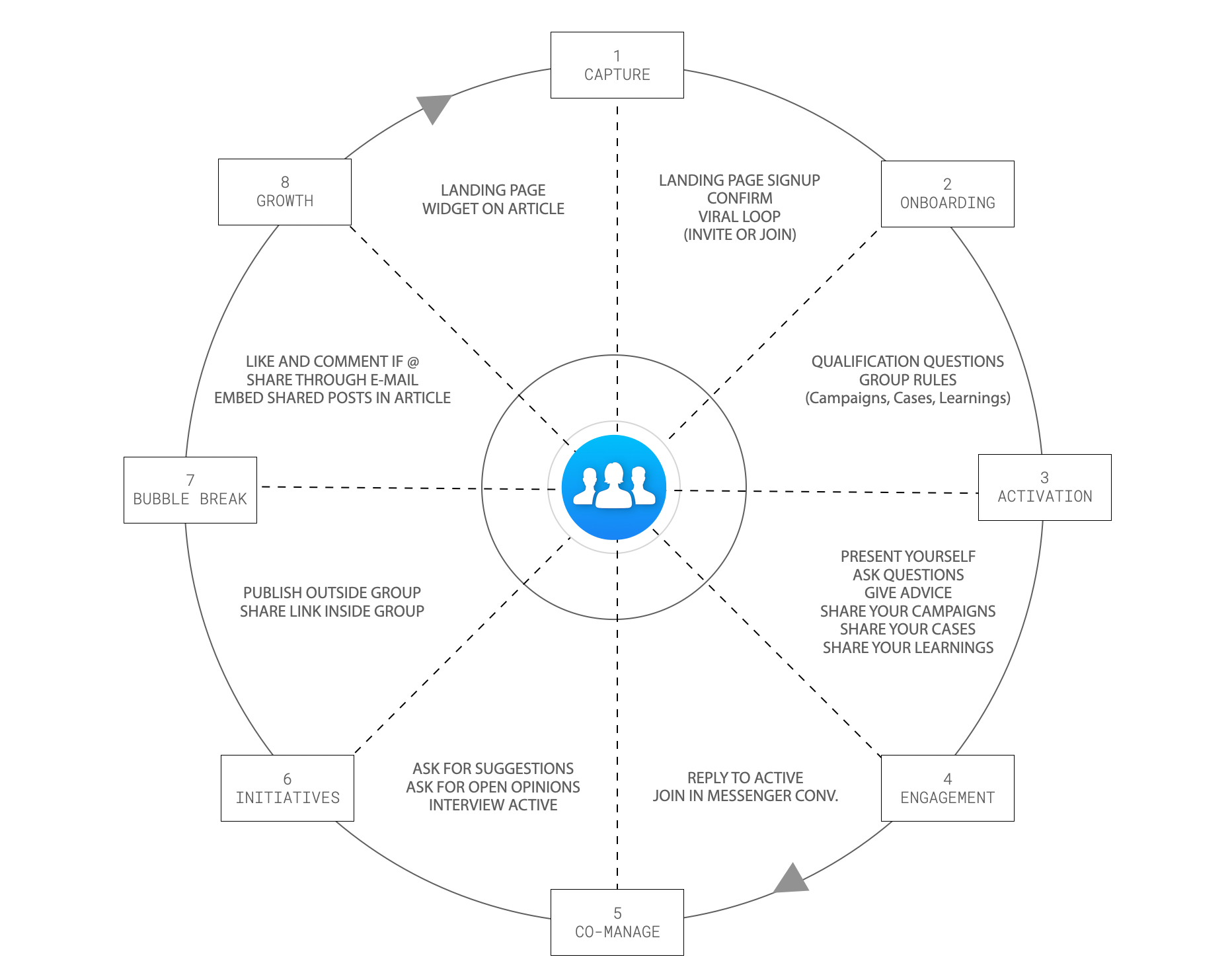 How do you grow your Facebook Group for Business?
1. CAPTURE
LANDING PAGE SIGNUP
You create a landing page with a mission statement that explains the community you want to build that the "WE" you want to establish as well as why that is important. Focus on both social, emotional and functional needs. Create a free information product that they will be able to download once they sign up to the waitlist.
CONFIRM
They are sent an e-mail to confrm their e-mail address and signup to receive the download. They click a link in the email and are redirected to a landing page. On the landing page they are offered to download the information product by clicking a link.
VIRAL LOOP (INVITE OR JOIN)
When the person clicks the link they are redirected to a page where they are given the offer of either joining the Facebook group or sharing the information product with someone they think would appreciate it.
2. ONBOARDING
QUALIFICATION QUESTIONS
In order to build a quality group you need to utilised the opportunity to ask applying members questions that show proof that they have the right kind of profle to be a participating member.
GROUP RULES
You need to present the group rules to the users. It should both include what kind of atmosphere you want in the group as well as what kind of topics are allowed to be discussed. In my case, the users will be encouraged to share Campaigns, Cases, Learnings.
They will also be encouraged to reply to each others questions, however they should not be allowed to give suggestions unless someone has explicitly asked for it. You need to add this rule in order to be able to ban members who are destroying your group. Your overall job is to create a strong WE.
Banning a member can create a strong villain that will strengthen the group who are still members. However, your group has to be larger than 500 members before attempting something like that.
3. ACTIVATION
PRESENT YOURSELF
In a post pinned to the top of the group you ask the members to present themselves and what companies they have worked at. Also write that you encourage people who have previously or are currently working in the same place to respond with an anecdote. For some time you should only:
Ask questions
Give advice
To the most active members as this will incentivise others to behave the same way to get the same kind of reaction out of you. And only post yourself when you:
Share research
Share cases
Share learnings From obscure, high authority or "behind paywall"-places. Real resources that establish your authority.
4. ENGAGEMENT
REPLY TO ACTIVE
Always reply to the most active users who post insightful ideas and things they seem to have worked a lot on. Even if it doesn't appeal to you, you should still thank them for widening your own perspectives and ask them some question back.
JOIN IN MESSENGER CONV.
Your objective now is to move the most engaged users towards becoming CO-MANAGERS of the group so that you can work less with its maintenance. A good way to recruit Co-Managers is to start private dialogue on messenger about some managerial question such as "I am having difficulties deciding over this post… you've been an active member since…, what do you think?"
The main tactic for Facebook Group Growth is in 8 steps and you can download it if you click the image above that has the full guide or you can read the steps here below:
5. CO-MANAGE
ASK FOR SUGGESTIONS
Together with your Co-Managers start asking members for suggestions on how they would have done things differently. Add polls, surveys and other such formats to get something you can format into an article.
ASK FOR OPEN OPINIONS
If someone gives an interesting opinion they seem to feel passionate about. You and your Co-Managers should ask the person if they can quote them in an article on the topic or if they'd themselves wants to write an opinion piece for the website (in this case marknadschef.com – the service I'm launching in this project) on the topic.
INTERVIEW ACTIVE
Actively source interesting people from the group to write interviews you can publish on your website. Make it into a team editorial together with your comanagers.
6. INITIATIVES
PUBLISH OUTSIDE GROUP
Publish the stories you have gather in your blog or in your article section of your website.
SHARE LINK INSIDE GROUP
Share the link to the article back to the group and tag the member. This will both incentivise them to share the article in their own feed as well as send signals to other members that they too could be mentioned that way if they behaved like the user you have chosen to interview.
7. BUBBLE BREAK
LIKE AND COMMENT IF @
If you are @-ed in the share as Group or as person. Make sure to like and comment, but don't reshare the share as that will be too much.
SHARE THROUGH E-MAIL
If it is a well written post, share it to the members who have signed up through your landing page to boost social likes etc and reward the person who is sharing the story.
EMBED SHARED POSTS IN ARTICLE
All public Facebook posts can be embedded on external websites. Ask the person to make it public and you can embed it the same article that is being shared. Further boosting the persons social metrics reward and incentivising others to both join and to get active.
8. GROWTH LANDING PAGE
At the end of each article include a link to a landing page where the reader have the opportunity to become a member.
WIDGET ON ARTICLE
Add a widget to the side of each article and include a link to a landing page where the reader have the opportunity to become a member.