Traditionally, there has been something magic with a coupon. Just like a wink of an eye, it communicates a two way relationship between buyer and seller that "hell yeah, we're loyal to each other". It is in some way romantic exchange between John and prostitute, when the pimp isn't looking.
"Oh, wait, I have a coupon for that…", "Oh, do you now…", "It is just here in my purse, hold on one sec…", "Gold memeber, I see… welcome back mrs. Andersson…", some coupons more embarrassing than others. Hotels had a successful rebranding of the coupons, calling them vouchers. Some even put their coupons into cards, calling them reward programs. *sigh*… The evolution of the coupon is as fascinating as it is sentimentally draining. A deal is always a deal and it touches my heart whenever I see a well phrased offer.
Of late, coupons have started to move into the digital space. Well, coupons have been there for a long time, but not the kind of coupons that you bring into an offline store and hand of in an intimate moment with the cashier. No. As the mobile web expands, these new types of digital coupons have started to overwhelm our lives to a greater extent than the ol'paperback.
On the horizon there are about a million competitors trying to battle it out in being the sole distributor of these digital coupons. Although I believe neither of them are employing a long term successful strategy, I still think that they are the two who will give it a run for the money. Naturally I'm talking about Facebook Deals and Groupon.
#1. The setup of a deal
Facebook Deals is still only available in Atlanta, Dallas, Austin, San Diego and San Fransisco which is a great weakness. Neither Groupon or Facebook Deals allows you to post a deal on your own. Groupon wants to review your deal and contact you "shortly" and provides a silly little non-optimized web form for you to fill in your business story in.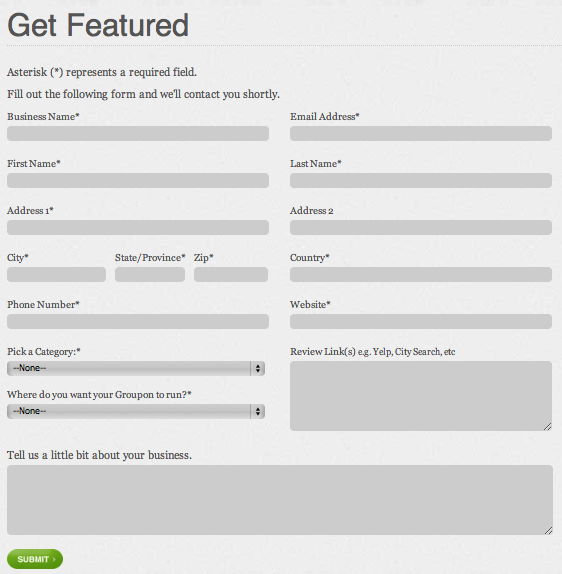 Facebook doesn't let you fill in any form at all. They simply state that they are currently working with "…aDealio, Gilt City, HomeRun, kgb deals, OpenTable, Plum District, PopSugar City, ReachLocal, Tippr, viagogo, and zozi…".
According to me, these strategies seem extremely costly and I don't understand why there isn't a way to just fill in my offer and then let it sliiiiide through the Internets like a hot piece of cheese on a… hmm… you get what I'm getting at.
#2 Deal display
Here is something both have got quite nicely right. Both of them make a big fuzz about the count down, they both clearly show what you save and they both show the price you pay. The only difference in call to action is that Facebook Deals uses "Buy for $XX" meanwhile Groupon simply uses "Buy" plus the prize to the left of the buy button.
Groupon deal display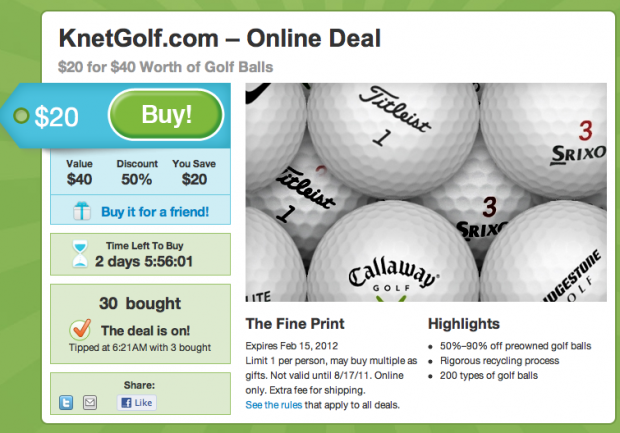 Facebook Deals deal display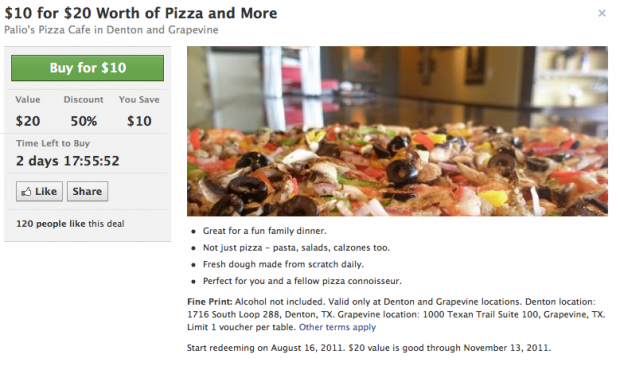 Naturally, Facebook Deals is superior in the ways you can share a deal. The only thing missing is probably to share it in a text to someone's mobile or to "people nearby". Ie. if I am using a deal and want to share it with my friends who happen to be in the same mall as me, or have checked-in close buy, then I should be able to send them a push notification through the mobile.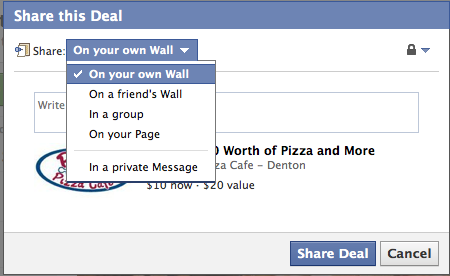 Groupon however has a functionality that I believe Facebook Deals really should focus on getting as well – Buy it for a friend. As I have written previously, Facebook Deals would be a great tool for group purchases. Ie. if a friend has a birthday, my buddies and I should be able to run a pot of money where everyone could give as much or as little as he or she wants to the pool. As the amount of money grows, more deals become available.
I really don't understand why Facebook has this already. They used to have it in their digital gifts store in the early days. You remember, when you could buy "megaphone time" and "digital badges" to your friends profile pages. Ha ha… I remember my boss invested a shit load of money into enabling a customized gifts store on our page when I worked at a "large fashion company"… Although the guy was one of the most daring digital personalities I have met in the corporate world, and if we would have just had a bit tinier egos, we would have made a perfect team, that decision was ludicrous.
However, back to the comparison. Groupon has got it right. Gifts is big business online, and they are taking full advantage of that.
#3. Buying a deal
I must say that I prefer Facebook Deals two step approach in the jQuery looking pop-in, over Groupon's one step check-out. I suppose it has to do with preference in some way, however, the golf balls don't feel as tasty when I can no longer see them which might impose a slight hesitation when I complete my purchase.
One of the rules of improving conversion rate is to maintain scent. Ie. The user seller should confirm that the user is still on the right track on claiming the purchase they first entered to complete. The scent is built through the use of consistent colors, call to action, price levels, discounts, buttons, and images throughout the complete check out process. If they change too much, a user gets confused and might think that the vendor is trying to fool them or that they have ended up in the wrong place and thus do not complete the purchase. One of the greatest lessons in conversion rate optimization I've ever learnt is that customers are stupid and they know it. Thus, they expect to do it the wrong way and try to find every excuse to blame stupidity in not completing the purchase. Thus, over confirm their every step along the process. (don't misinterpret me there please…)
Groupon check-out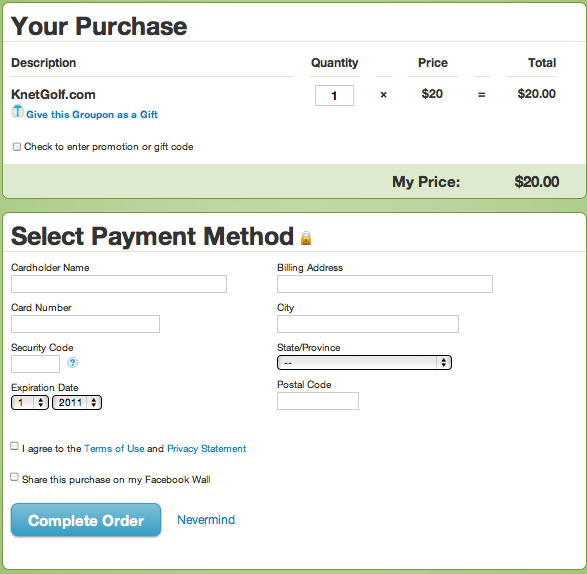 Facebook Deals two step check-out
Step 1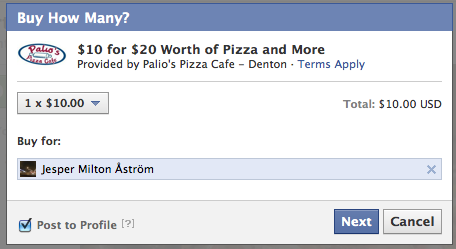 Step 2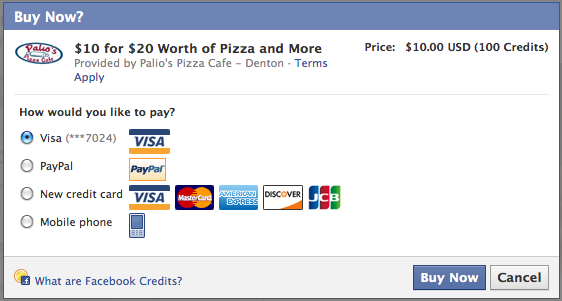 Why Facebook Deals and Groupon both will fail
The technology of creating a digital coupon is becoming increasingly available at very affordable prices. In fact, it is free to create many digital coupons already. Distributors of QR-codes and other such solutions have made it extremely simple to adopt the new technology and thus the cost is very limited.
Neither Facebook Deals or Groupon takes on a strategy where they become the distributor of existing deals, but they create unique deals on their platform. Although Facebook has noted they are trying to make their deals more social, I suspect they will focus on the sharing of existing deals, rather than the submission of social deals, ie. an offer that I find interesting to my friends, or an existing offer in a store that needs to be digitalized in order to reach its complete audience.
As a customer I want to walk around town and get ALL available deals in one device. I don't want to flip around between native apps to try and find what might interest me. Here is a great void in the industry, one I think Google will eventually fill with its superior insight in user search preferences and geo location/maps.
Facebook can still steal this void in front of the noses of the others if they make it possible for me to post my best deals onto my wall. Ie. the deals I find are good offers. That way they will create a natural place for deals in the sharing space. Ie. (loads of the ie.s now…) Users are more likely to look at the deals purchased by businesses if it is mixed amongst the deals friends have posted, or if they are in the same format on the wall.