Facebook Marketplace is a thing that's been around for a while but it hasn't really kicked off internationally yet. However, looking at the trend, and it's more apparent placement in the new Facebook navigation, the statistics below are sure to take off even more.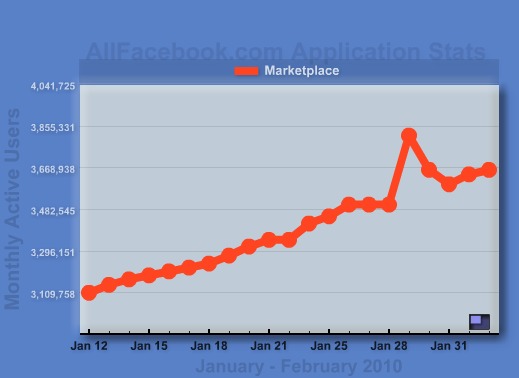 With a growth rate like that I am sure it will start the sweat in the necks of many second hand market places out there. And it is so much fun too. 🙂 Look at what I put out for sale today. So, here we go with a short tutorial on how Facebook Marketplace work and how you can start selling your stuff.
1. Finding Marketplace
Since the new design came along it has been pretty easy to find Facebook Marketplace. It is located in the left hand navigation amongst your other apps. Previously it was located in the App-bar in the bottom of the screen. The problem with the app-bar was that no one/hardly anyone was using it. Plus it was extremely annoying to explain to clients how to find it. They just didn't grasp the whole thing with a navigational bar that was static in the bottom of the window.

As you can see there is an orange little thingy and a blue little thingy shaking hands. That is the Facebook Marketplace icon. I guess that is a way in Facebookian to say; "this is where you strike a deal".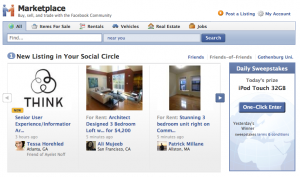 2. Putting your Ad in Facebook Marketplace
Second step when you want to sell something in Facebook Marketplace is that you click the "Post a Listing" button in the top right corner. Once you do so, then you will be prompted to Allow access to the application. I do not recommend you to do this as that would put me in all types of legal problems. However, if you want to use the app, then you have too. So, let's keep it to that.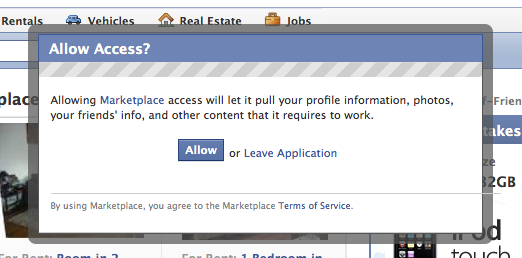 3. Adding your e-mail and whereabouts
If you want to sell something you shouldn't need to ship all across the world, then you need to add your e-mail address to this pane. Secondly you have to tell the application where in the world you are located and put your product in some kind of category.
Don't do like me and forget to enter your zip code or city. The red color and error message of this app is really hostile and it almost made me stop my publishing process.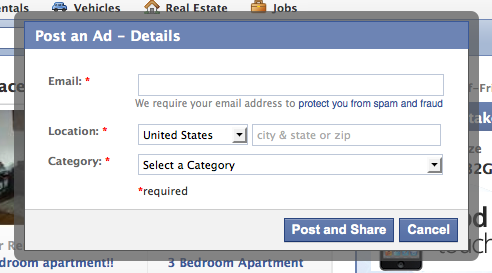 3. Putting your item to display
Next thing you have to do is to enter some kind of sub category and some detailed description. Since I was just doing this for fun I decided to put my listing in the music section as I believe only musicians would be the only people stoned enough to actually buy what I was offering namely an empty box of snus (Swedish wet tobacco)
Secondly I wrote that I had used it enough and that I didn't want to keep the box. Therefore I was offering it for the extremely affordable price of $35. 🙂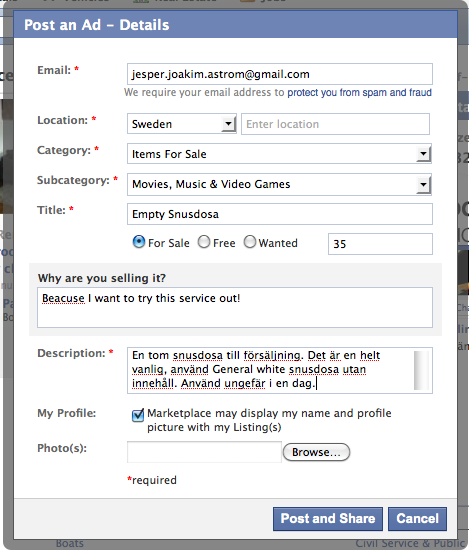 These steps are simple enough and naturally I didn't do this simply for fun, but I also did it since I wanted to know if the system had some kind of filter that would take away my ridiculous ad. As you'll see, they didn't which opens up for so many areas of experimenting that it is not even funny, but I'll get to that in another post.
4. Getting your Ad published

Now all you get is a few hard earned minutes of rest as if this is your first Ad, then you'll have to verify it with the link that is sent to the e-mail address that you entered. Secondly you'll have to await some kind of monitoring which I am highly confident only removes x-rated material and illegal stuff.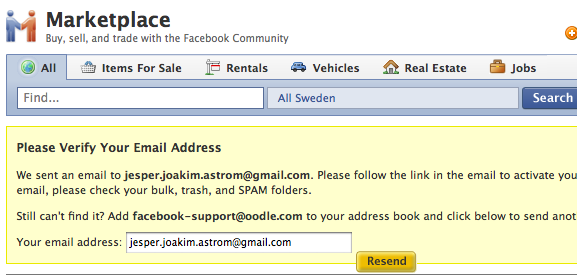 And rest assured you will not miss the confirmation process. The application has a neat and very yellow notification that will tell you to resend the confirmation e-mail as many times as they need to in order for you to sign up. As we want to sell our junk, then naturally we do sign up.

Eventually however, your listing appears in the listing and you can happily rest assured that you'll at least end up in some searches for the coming 30 days which is the maximum for your listing.
5. Support your listing with Ads and position
You can also choose to support your listing with ads. These ads are created from your confirmation view under the "My Account" view found in the top right of the lobby view.

As you see there is a "Promote to Top of Results". What I have been able to find out so far is that if you press this button, your listing will appear as the top of the new entries result again. You can only do this once every 16 hours though. DOH!! (riiiiight…)

Back on track. When your listing is available to the public you will get a notification about it so that you'll know and don't happen to miss it.
6. Comments and Reviews
This wouldn't be social if there wasn't for a quite sophisticated rate and review functionality. Naturally you are able to both rate the people selling the stuff as well as comment on the actual product. This is a really neat feature that I hope Facebook will integrate into their Facebook Connect eventually so that I can run my shop on Facebook's social platform whilst also promoting it on my website. (Yeah.. I said it… my base will be FB and I will use my website as a secondary… eat that old grumpy online store/ex catalog order executive)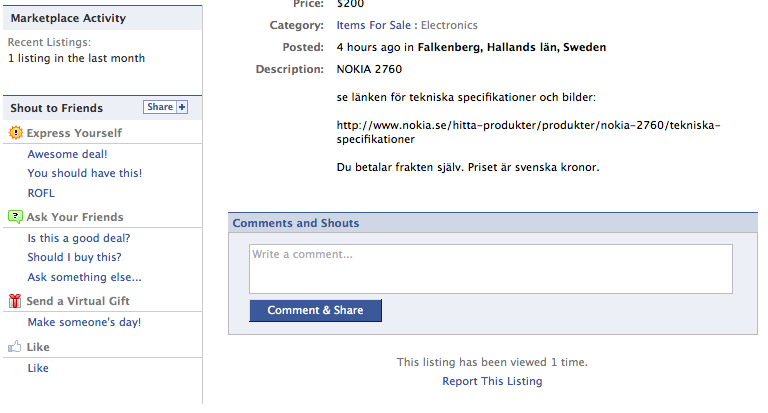 As you can see there is also some neat sharing capabilities in the left hand navigation.
I guess that is all from me at this point in time. I'll be sure to have more about this in coming weeks, it is just that I haven't seen any results for my Old Snusbox listing (astonishingly enough… rofl) But seriously, I'll tell you all about what happened later and also add some insights into my experiments.
Possibly related posts:
Related posts on Facebook Marketplace