One of my friends knows about my infatuation with Facebook exploration and thus asked me a question about Facebook privacy that made me think of something.
Since a while back you have to uncheck a button in order to not show up in Google with your profile. This is quite straight forward. One thing which is not that straight forward is what becomes visible and why exactly that information is visible.
This is my search result visible in Google.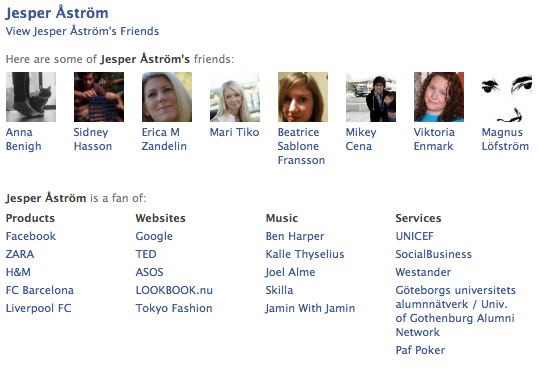 SEO & Internal links to make Pages rank
Now, I know there are some of you who do not believe in PR-sculpting. I do, and I think that the person working with SEO at Facebook does as well. Cause it is quite evident from what is visible in these profile displays visible from the Google searches what strategy Facebook has.
They want users to rank on their names and they want pages to rank for brands. They are turning all the link love we all provide to by linking to our profile pages through widgets and direct links, into power through anchor text internal links. Since the platform is so strong there is no question about it that this has an enormous effect on placement in the search results.
Facebook on site SEO sucks
Facebook does not otherwise have any on site SEO to talk about. They have massive amounts of content and massive amounts of links, but their front end rendering scripted nasty stuff is just horrible.
Yes, they are using your name/pagename as the H1 (only when logged in though) and they do actually have all the components in there. But the structure which is not a part of the internal links is just HORRIBLE.
That's it for this post. I won't talk down on them in more detail, but as my friend asked me I couldn't get this out of my system other than to blog about it.
//Jesper
Possibly related posts:
Related posts on Facebook SEO