Facebook Timeline for pages is more than just a simple redesign. It is a new way of communicating on Facebook. Thus I find it important to write a few words on what you need to think about when planning what to put on your page. This blog post will cover the main design elements as well as some of the tactics changes you need to understand before publishing your page.
Facebook Timeline for pages – contents of this blog post:
The new design of Facebook Timeline for Pages
A new Admin Panel
How to deal with applications on pages
How to launch and re-launch campaigns through the Facebook Timeline
1. The new design of Facebook Timeline for pages
a. The cover image
The most obvious design change is that you can now post a cover image. Fair enough. You click the link telling you to Add a Cover on the right hand side of the page and then choose to either select one of your posted images or upload a new image. I am 100% sure you will make this happen in a much better manner than I will as I am no designer.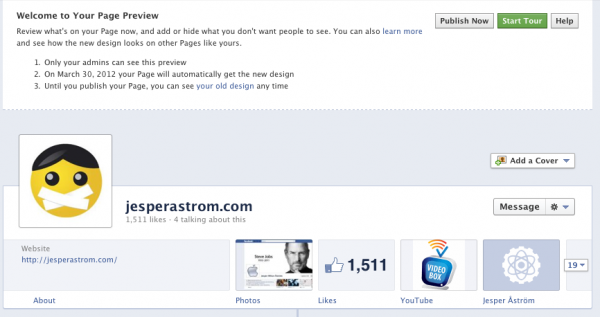 b. The boxes
Your boxes displaying your applications, number of fans etc are all there for a reason. You can decide to change either one of them except for the photos one. You can select what image to display as the photos cover image from the photos view.
How to change the order of the images:

Expand the boxes by clicking the little arrow with the number to the far right. On the first image in this post it says 19 next to that arrow. The boxes should fall out looking sort of like this: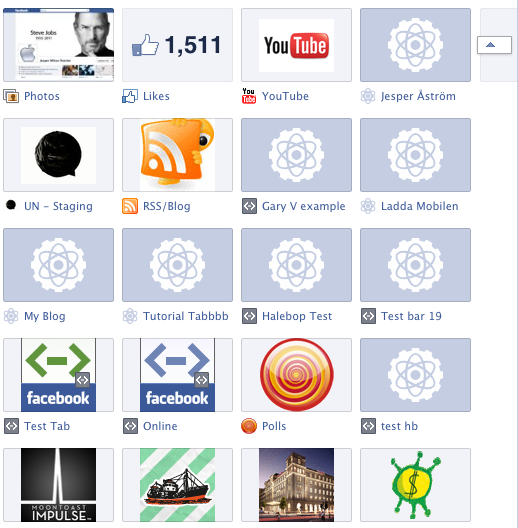 Hover one of the boxes and click the little marker that appears. A drop down will come out. If you decide to click any of the options in the drop down the box you have selected will switch places with it.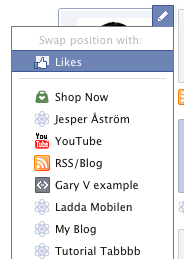 I have now clicked the little marker that appears when I hovered my UN staging app above. If you now click "Shop Now" or "Gary V example", then my UN staging app will switch places with that app. Thus you can decide what applications are visible for your first time users.
I suggest you use the cover photo, the photo album cover as well as the application images in order to direct attention towards like buttons and different such places in order to make your first time visitors convert the way you want them to. I will display further design suggestions later.
What we do know right now however is that the before so irrelevant larger application image, now becomes extremely important as it is what will or wont draw attention to your application.
2. A new Admin panel
What makes me extremely happy is that the admin panel has become more communicative. In the top right corner of your screen, when looking at your page, you will see a link leading to your admin panel.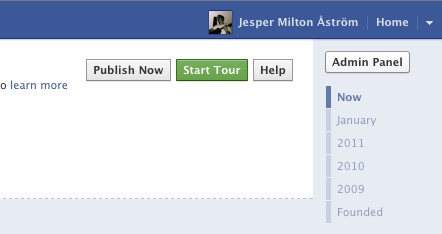 If you click this link a new admin window will appear which will give you the possibility to follow what happens on your page more clearly. Previously you have not been notified properly when a comment has been made on your page. (Except if you are logged in as the page, which no one is) And so it becomes a lot more trivial to work with the Facebook page interface. Notifications and messages also take a more apparent place in the new admin panel view.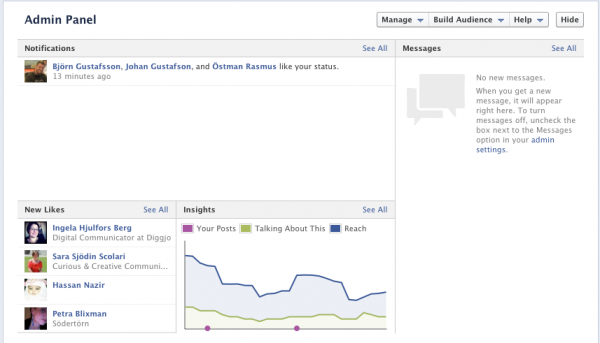 In the top of your Admin panel view you will be able to find the old "Edit Page" options as well as the Promote your page options. This is a much better way of displaying these options to the user if you ask me.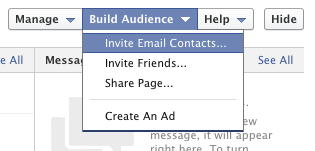 3. How to deal with applications on pages
The previous design layout for applications only allowed you to use part of the page width to display your applications. The new canvas page allows you to use applications in a wider space. The top navigational options more easily also allows your users to navigate back to the timeline. I like.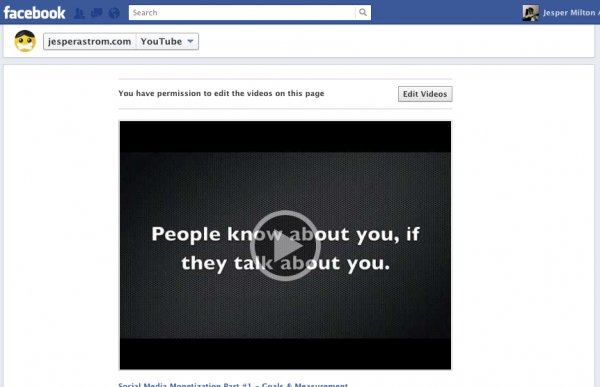 The widened space as well as the more cleaner look will allow you to use both top and side navigational elements to your applications making the user interaction a lot easier as you do not have to make your users navigate through the page but you can use the standard top left navigational structure.
I hope this will increase flows as well as conversion rates in campaigns.
It also allows you to integrate parts of your webshop more easily into your facebook page. My suggestion is that you use one of the top boxes for campaigns and one for communication of page benefits and other such things that you want to communicate on a more regular basis. Or, if you run a online shop, integrate your shop onto your page. It will either way look really sweet as Facebook has removed most of its design elements from this view, which wasn't the case before.
Secondly, you can create timeline boxes for your applications if this makes any sense. These application boxes will become available both on your own timeline as well as on the users timelines. Remember to use this feature wisely as it will otherwise clutter the timeline of the user and make him or her pissed off. I believe you should consider using it if the visitor should report regular activity to their friends through their wall box. Ie. if you are an online retailer you can display items that the person has purchased in this type of box, if you are a game provider you can display achievements in the box etc. etc.
4. How to launch and re-launch campaigns through the Facebook Timeline
Here comes the real mastery of the new timeline. There are so many more reasons to push links to your page in every single update. Ie. if you publish a standard question you should use a link back to your Facebook page as the ending of all of them. The reason is apparent – you are now able to utilize a lot more design features on your Timeline page the users, if prompted correctly will be able to explore it as a standard landing page.
The focus has moved away from the wall being ONE image. You can now work with each element on the timeline and thus market the living shit out of things from your page display.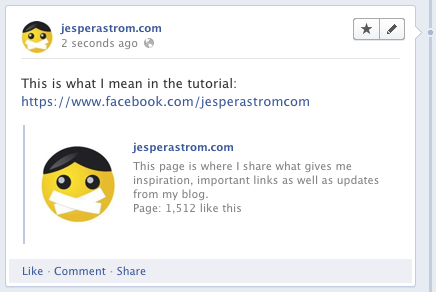 Considering "Scent" becomes of utmost importance. Ie. that you post something to your Timeline that the visitor will be able to recognize in your cover photo when they arrive at your page. Think about it this way.
You post an image and some "call to action" text to your Timeline and a Page link.
The image you post has a graphical element that the user recognizes in the cover photo.
Use an arrow from the graphical element to direct the attention of the user to one of the application boxes
Change these throughout the campaign period so that it appeals to more users
I will try to make this tactic apparent in a test on one of my pages the coming weeks and display the results. Please comment if this makes no sense or if you understand the extreme beauty and brilliance of this idea.
5. Other important elements to consider
One of the new features is that the box displaying how many of your current friends are liking a page, has become a lot more apparent. It thus becomes important to run advertising campaigns that target new fans and sets of fans with different messages. "Be the first to like…", or "Do like your friends and like…" kind of call to actions become a lot more relevant as this feature has become a lot more evident on the page.

Another neat feature is that the pages your page has liked is now more apparent. This will help you direct traffic to such things as product pages and local pages of your brand.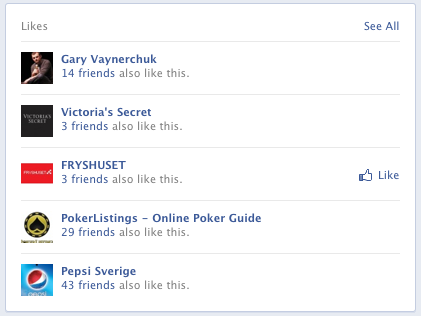 I think that's how far I want to take it right now. I will continue to update this post as I get more ideas on how to use it in a better way.