Facebook pages are one of the key features when engaging your company in social media. It is a simple way to get up and running in a very limited time. This post is the first in a series about Facebook Fan Pages. The index for this tutorial will be listed under the Social Media option in the top navigation.
First Create your Facebook page, then think what to do with it
The first lesson of social media is to never think about what you do in social media. Just do it, test it, and obide to the general rules of being nice and transparent with your intentions. No one know what fans you will get before you actually take the first step. You do get the fans you deserve. If you have a successful business online and/or offline, you will find loads of similarities in the social web. It is a lot more like traditional business than what you are used to from the static web.
1. Fist step: Page creation and account setup
Start out by visiting the advertising entry page of Facebook.  Make sure you have logged out from your private, personal account first. Otherwise your private account will have a never ending relationship with the Facebook page you're creating. All though that might be a good thing in a couple of years, if you're successful, as it can serve as a good card to pull when negotiating salaries. I would however not recommend it as it might be so that the legal process will determine that you have to leave your private account to the company rather than the company leaving its page to you. It all depends on jurisdiction though. So you check the laws and decide – ok?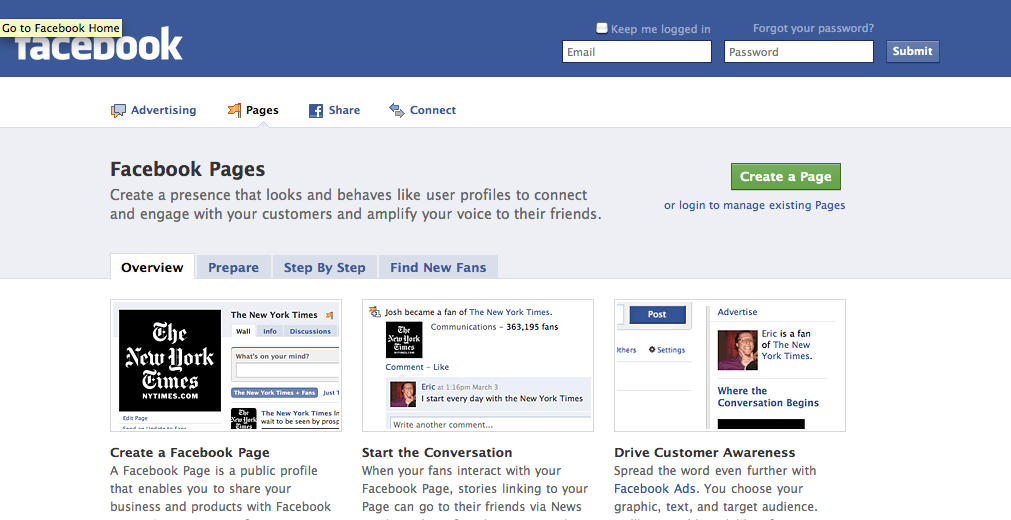 In this tutorial I expect that you work with the best interest of your company in your mind, and thus make sure you are logged out of Facebook before continuing.
First thing you should do now is to click the green option button "Create Page". You'll reach a page where you will be asked to choose what type of business you are.
The drop downs are pretty long. But start out by selecting what best describes your Pages purpose on Facebook. They provide you with three options:
Local
Brand/Product/Organization
Artist/Band/Public Figure
If you are just starting out you should probably just register your brand. Select the brand option and then select the vertical that suits you the best.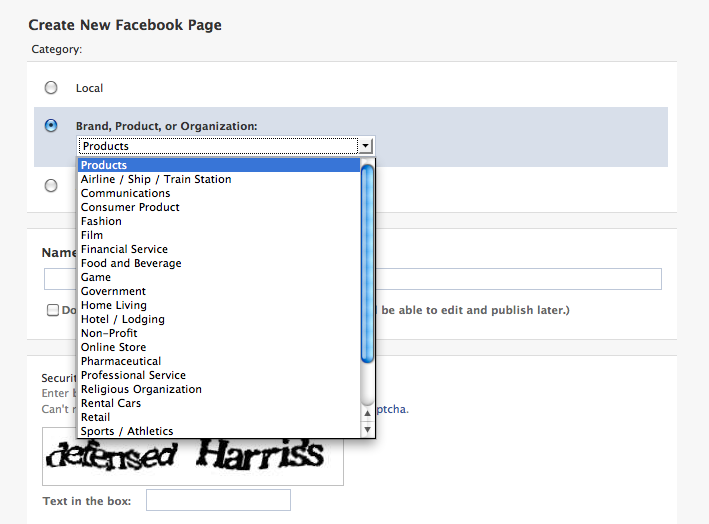 Later on you might create a page for your CEO, for a certain local store or for some other purpose that fits the other categories. For now however, settle with one page as this will be the hub for your communication on Facebook and I am guessing you don't have the organization to support anything more extensive. (wow that was a long sentence)
Below this option there is a field where you select the page name. This is actually the only thing you have to think carefully of as it is quite difficult to edit once it has been choosen.

REMEMBER to check the option "Do not make Page publicly visible at this time". It is no biggie, but you should be aware of this option as your page will go public if you don't check it and you might want to test some things out first.
2. Create your Facebook Page – Then your Page profile
This is where many people go wrong. Pay attention to this part. You will eventually have to create a normal Facebook account that is connected to your Facebook Page. This profile should be a real person, it doesn't have to be you, but according to Facebook's rules, this person has to exist.
Now you're thinking… but who should I be then? Everyone on my working place already has a Facebook account? Well, the way to do this is to create your work persona. It is still you, but it is you at work. You use your own name, your own picture, your own birth date and other information, but it is NOT your private account. The account is owned by your job. You could give the person your first name and then the brand as a second name. However… the important thing here is that you make it a person.
Just lie at the first option saying that you don't yet have a Facebook account. And DO not let your Agency do this for you. They will make themselves stick by connecting one profile to your page.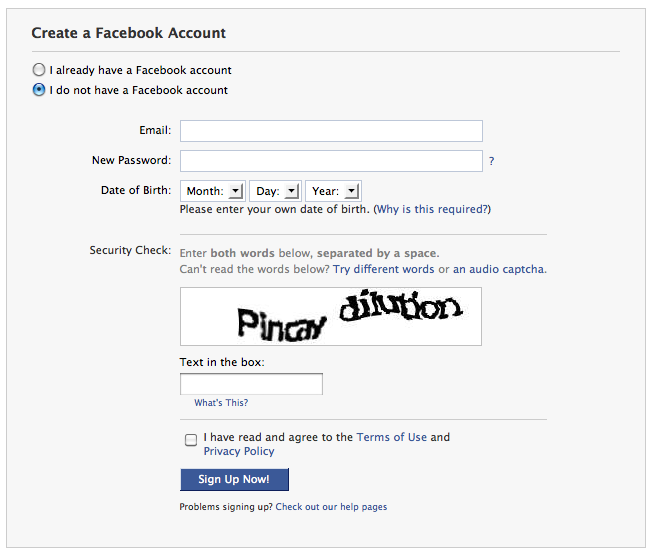 Check the option for having read the Terms of Use and the Privacy Policy and then Click Sign up now. As you will notice you will have to confirm your e-mail address. This means that an e-mail has been sent to your inbox and you will have to click a link in that e-mail to continue. If you do not receive an e-mail within one hour. Check your spam e-mail inbox or your junk e-mail inbox. These types of messages might end up there if you have a strict IT-department. Once it arrives it should look something like this:

3. Your Facebook Page is created, Now you have to give it some flare
Now you've set up the basic account information for your Facebook Page and you are on the verge of taking your first step into social media mania. YEY!! But we still have a lot to do before we are done with the setup.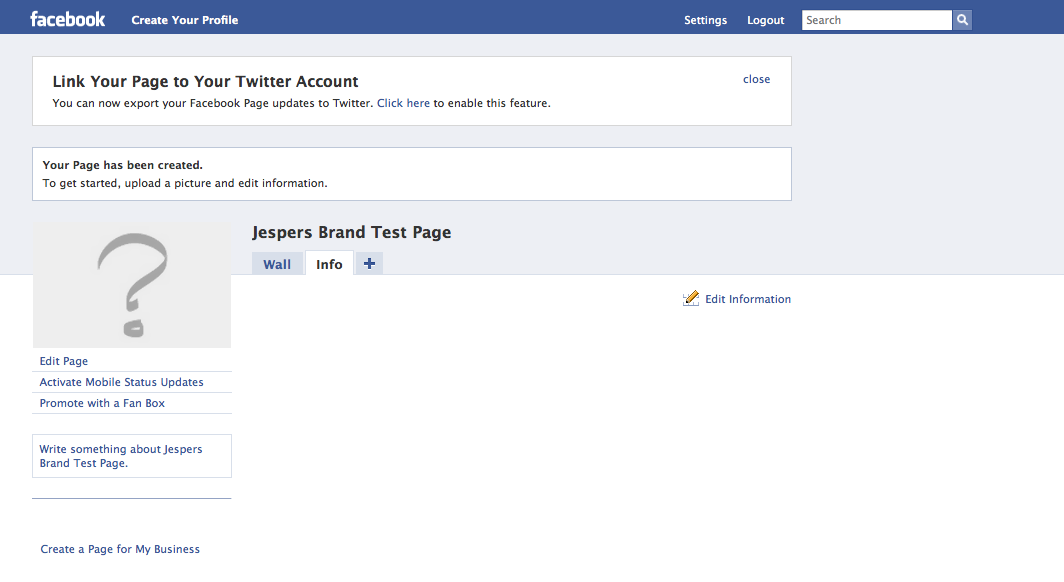 4. Setting up your Facebook Profile for your Page
Your Facebook Page pretty much looks like this once you've clicked the link in your e-mail and reached the page of your choice. First thing to do now is to click the option in the top left hand corner to create a Facebook Profile. That is a normal signup procedure. Nothing fancy with that. The only thing is that I would recommend you use a picture of yourself with the icon of your company in the bottom right hand, or in the bottom third of your image. That way people will understand that this is your work account if let's say two accounts that are both you would show up in a search, when your lost friend from kindergarden is searching for you. (you know the one who had a crush on you and still haven't got over you… sick person… reject… :D)
Oh yeah.. they will ask you to add your first friend during the profile registration. Just skip that section for now. This profile will not be visible to anyone if you don't gain any friends or if you aren't active with it. Don't add anyone just yet. You will in the future where I describe the use of a Facebook Profile. But for now keep this as is. On the bottom right hand side of the squares with forms, you'll find the option "Skip this step". Use that option!!
5. Returning to your Facebook Page to Edit it
Once you've created your profile you will be redirected to your Profile Page. THIS IS NOT your company Facebook Page. Many people don't get this and start editing the profile as though it was the corporate page. NO NO…
What you should do now is to either use the option to see all your pages in the bottom left of your screen window.

Or you can use the top right search field and start typing the name of your page. What ever you prefer will do the trick. Just remember not to press enter when you see your page appear as below. Use your pointer to click the page that appears. Otherwise you will come to a search result where your page will not be visible as it is not visible yet. (Remember the visibility setting)

6. Editing your Facebook Page – Main settings
Once you return to your Facebook Page it will look like the one displayed above. Now you'll have to start editing it or people will highly dislike it simply because it's UUUGLY. The Edit Page option can be found on your left hand side just under your Page logo or Page image.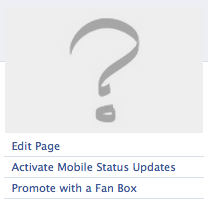 Once you reach the Edit Page mode you'll see many panes in front of you. Just click the option "Edit" on each one of them to make them unfold what they have inside :).
7. Selecting where your Brand Facebook Page is from
Now you will reach a page with a lot of settings. For now however you'll just have to take care of a couple of them.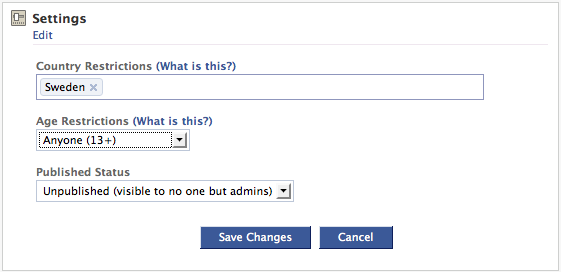 You can choose to publish your page at this time. But I just wouldn't. You're not done. For now, I would just enter the country where you want your page to be most visible and then select the age a person has to be to view your page. If you're doing anything that might be considered illegal for kids in some country, then I suggest you make the allowed age for your Facebook Page older than PG13. Once you're done, then click "Save changes".
8. Selecting your Facebook Page Wall settings
Now it is time to set your Facebook Page Wall settings. Important to note here is that some companies only let themselves post material on their wall. Others let the users post material. One thing to keep in mind is that it is only the things YOU post on the wall that is shared on the walls of your Page's Fans. This means that if a user posts something, it is only seen on the wall. Since most interaction happens on the News flow of a users home page, and NOT on your wall, you will have plenty of time to take away bad posts or spammy posts put up there by users.
I like transparency and thus I select the option "Posts by Page and Fans". Remember to teach your fans what kind of comments you remove and what kind of comments you let be. A good thing is to remove curse words, but keep bad stuff about you. Your protectors will protect you. Trust in your fans baby… trust in your fans… If someone posts something nasty, then your fans will make sure that user is taught a lesson. That is ofcourse if you don't beat them to it and you school that person back to prehistoric ages. Unless you've actually done something bad, in which case you apologize and do better next time. If not, all hell will rain on you. 🙂
Second option is easier. Always choose wall here. People want to see activity and interaction. If they didn't they would go to your boring website instead. I mean.. DUUDE this is Facebook… the ultimate heaven of interaction. Thus you should stay with the pre set Wall option here.

Next options are more difficult to say. I would probably allow them all to start with. If there is a lot of abuse, then I would remove the option where the abuse takes place.

I generally tend not to edit my page any more than this. It is enough to have these settings to start with. Later I will write a post on How to Extend your page. Come to think of it that should be my next post. I will list what applications you should add to the page in order to customize it and make the most of your business on Facebook. One thing to have a look at in the bottom of the Edit page view are the suggested applications. I would add them all to the page.

The instructions on how to do this are pretty clear. I will describe it in the next post if it would be any problem for you. So just keep in touch and we'll get that sorted.
Browse through the other options available but you can leave them as they are by default.
9. Moving on to the visual stuff
Now it is time to change the logo of your Facebook Page. Go back to your Page's main page by clicking the link in the top of your Edit page view. Click the View Page option and you're set to go.

Now it is time to add your page's logo. This is done by hovering the empty image displayed as default.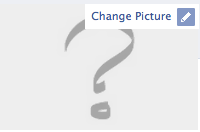 Click the option Change Picture and select if you want to upload, take a picture or select one from the image gallery. The upload might not display your logo at once. Give it approximately 5 minutes in it will have put the logo you wanted in there.
10. Editing the Info Tab of the Facebook Page
You will see that the Info Tab of the Facebook Page is selected by default right now. Not the Wall setting as you had put it in the edit page view. This is Facebook's way of telling you that you need to edit this informaion. Just click the Edit option available on the left hand side and write what your page is all about. Remember to write any rules you have for your page such as; "Be kind or be dead" or perhaps "We expect you to be 18+, if your not, please leave". Anything that set the terms of your page as well as writes the goals of your engagement in social media.

Remember!! Transparency doesn't necessarily mean that you have to tell everyone what everything. Just tell them what your intentions are and you'll be fine with that.
If you find any of the options as difficult to fill in. Just don't. You'll be able to edit this a thousand times in the future and you will find a purpose for each field. Campaigns, cupons, offers, yada yada… anything goes as long as you tell people why you're doing it. The options presented to you are there as a result of what vertical you said you were in. As I said I was a TV Show I get quite funny options to select from. As you can see below you don't have to "follow the rules".
11. Making your first Facebook Page update
Once this is done. You press "Save Changes" and you are DONE!! Now click the Wall tab of your page's top navigation and go back to the wall page to write your first update. Remember to try out and post a link, a photo and all the other things before you go ahead and publish the page. You don't want to end up looking like a fool because you did it the wrong way later on.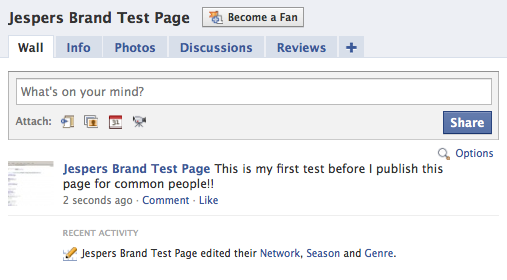 To post other things than a status update you simply click one of the icons below the status update field. If you want to know what the different options mean, just hover one of them with your screen pointer.
Publishing your Facebook Page
Once this is done you go ahead and publish the Page by clicking the link visible in the top of the page. You'll probably also have to go back to the option in the Edit Page view and change that to a published state. (Remember the image from above.)
SOO.. Congratulations to you!! You've just created your first Facebook Page. You can now play around with all the options and have some fun. In the next blog post on this topic I'll dig into how you can extend your Facebook Page.
//Jesper