There is a thing called promote on your posts on Facebook. The little link can be found on posts made by some applications as well as all manual posts promoted. The whole idea with Promoted posts is to draw attention to an ongoing discussion that might increase the relevance of your page.

As you can see from the screen print above there is the Comment – Like – Share – Promote option. Once you click promote a new window opens and you get to create settings or choose the default for the ad you want to create for that specific post.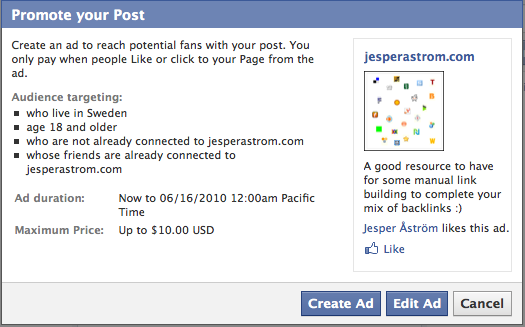 Best thing about it is that you pay per "Like" or per Click. This is a new and good feature from Facebook as it allows you as a marketer to better highlight why users should become involved or interested in your social objects.
1. Use Promote a post to Build your Facebook Page
Let's say you are working to build a following on your Facebook page but you don't seem to get the boost you wanted out of your ordinary ads. However, your wall posts are drawing some attention and more specifically one post has had a lot of likes and a lot of comments.
Now let's assume that this influx of interaction was due to post quality. Then why not use that post to get your following up to speed. If the users you already have enjoyed it, then other users might as well.
2. Use Promote a post for Crisis management
Secondly, you can use this for crisis management. Let's say you are experiencing some harsh blog storm about your brand and you want to get the information out there about what you are doing to deal with the issue. Then you can promote that post towards the target group for your communication. It is almost like the "megaphone" which was the first ad format of Facebook used by people who wanted to get elected for some student council positions.
3. Use Promote a post for Event notifications
Let's say you are looking to fill up an event but the due date is coming close to an end. By engaging the people already signed up for the event and then promoting the post you've gotten interaction on to their friends, then you can probably find it easier to get more people involved. They click the ad, see that other people they know are going and thus they sign up.
Finally
As you can see you can use this neat little feature for a lot of different things. The above is only a selection of purposes. I really like it and I think that it is the best ad format that has come out of Facebook since they've opened up.
Possibly related posts:
Related posts on Facebook advertising