WRITING IN PROGRESS: As I was writing this blog post, Facebook pulled back their New Facebook Pages and replaced them with the old ones. I will keep you updated on the changes as I find them. We've currently got something looking like an "inbetween the new and old design page" where the Tabs are back:

And now they released the update that this was a mistakenly published prototype. I wish it wasn't.

My first question was: "Where the heck did the Edit page button go"? I was calmed quite fast when I looked in the top right corner and found it there. Nice, the new Facebook Pages are here!
#1 Login as page on Facebook
This is huge. You can now login as the pages you Admin. You can easily change between the accounts you are managing and thus be yourself as well as be the page. Essentially, what this does is that it allows pages to take a more active and social role on Facebook as they can interact with the other users.

If you are not logged in as a page, then you see your own profiles updates and you can browse the network as though you are yourself. But if you are logged in as a page, then you will from now on browse Facebook as a page. Get the updates as a page, and be able to friend people as a page. You will not yet be able to message people, but you will be able to write on their walls as the page.
1. Notifications when logged in as a Facebook page

2. Switching between accounts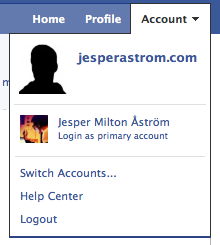 #2 You need to treat a Facebook Page like a friend now
I was resetting my privacy settings earlier today and sorting the different friends I have into new groups as I am preparing to open most of my account public. Amongst my friends were all the pages, which were not there before.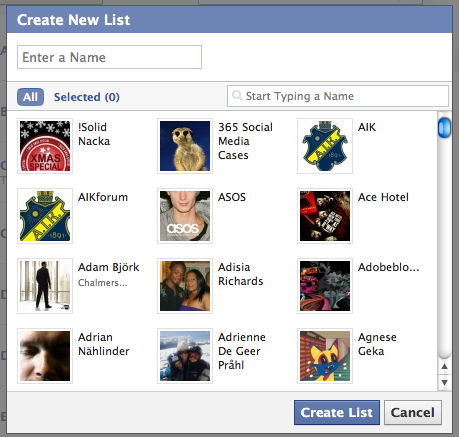 This is an interesting move by Facebook, but I suggest you have a look at your privacy settings and set all pages you add in a single group that you give specific or limited access to your page.
Earlier today page admins took a beating, probably as a result of the changes being implemented. However, I see the final outcome as the most important. Being able to login and move around as a page gives page owners a lot more freedom to interact and thus also a better service to those who like the page.
#3 No more Facebook page tabs
There are probably a lot of new features to be rolled out in the coming days, but the most evident change is that of the tabs. There are no more tabs on the Facebook pages. Nice! No one ever clicked the tabs anyhow and you had to employ some kind of re-publishing strategy for them in order for them to make sense. This is a great change.
#4 New Facebook Page left hand navigation
Instead, Facebook is working with a new left hand navigation. If I may remind you… TOLD YOU SO!! This is great when you want to make it easier for your users to visit yours and others applications. You can much easier build connections to your own website and drive promotional activities. The navigational structure makes a lot more sense this way.
For example, if you want to add a top navigation to your application pages, it doesn't look f-ed up any more.
How do I change the order of the Facebook page navigation options to the left?
1. Well, simply click the more button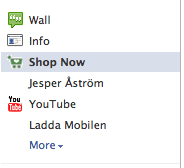 2. Then the edit button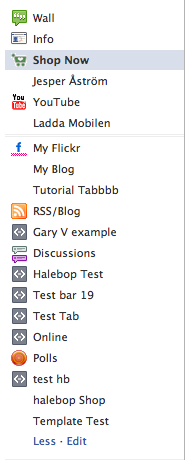 3. Then wait for a couple of seconds and then you can drag and drop the options or delete them in any way that you want.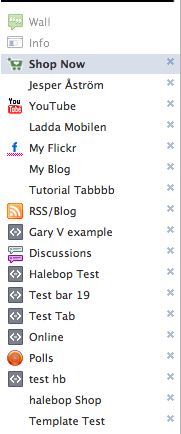 You still cannot change the order of the Wall and Info "tab" but I hope they really change that for the future or give an easy way to integrate the wall onto every page of your app.