Perhaps I've just missed it, but I have been really busy all day, so I'll write about it although you probably already read it somewhere else.
I found some neat and new privacy settings on Facebook. The new feature allows you to better control how people who aren't already connected to you, see your information and what they are allowed to do. This is a great step for professional profiles that you create for yourself and for your employees working with your Facebook presence for example. This blog post aims at just quickly running them through and showing you they exist.
You find them by clicking your Account button, top right, and selecting Privacy settings.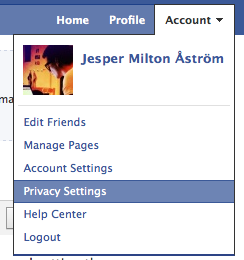 On the very top of the two selections there is a new option to set the privacy settings for Connecting on Facebook. Click the "View settings" link to move onto the options.

Connecting on Facebook Privacy settings
As you can see from the options in the image below you are now able to hide the "send a friend request" button, you can disappear from Facebook searches (this option has been available previously as well). You can virtually remove any chance of finding you except for removing the Poke button. That's probably the only way people can contact you if you've set all others to None!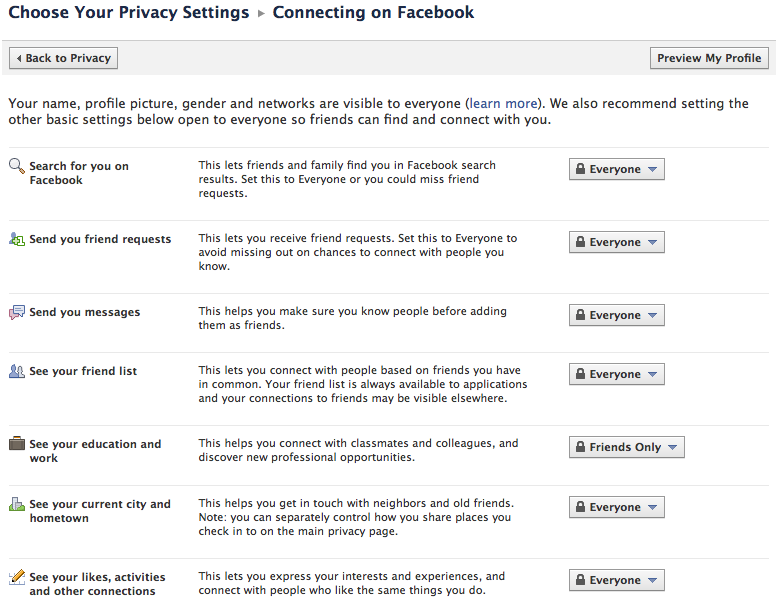 So… I guess this is yet another step to prepare for the new messages system whilst giving you more control over whether or not your profile is visible in Google and Facebook search engines.
But the normal Facebook privacy settings have also changed
I found another change whilst moping around the privacy settings. They have added the possibility to set different privacy settings for different albums you have published. This is also an excellent addition to what was there before. You find it by clicking the "Customize settings" link at the bottom of your privacy settings overview.

Then looking in the first grouping of privacy settings to find the "Edit album privacy" at the bottom of the first stack and clicking the link "Edit album privacy".

And then finally setting the different privacy level you desire on each album.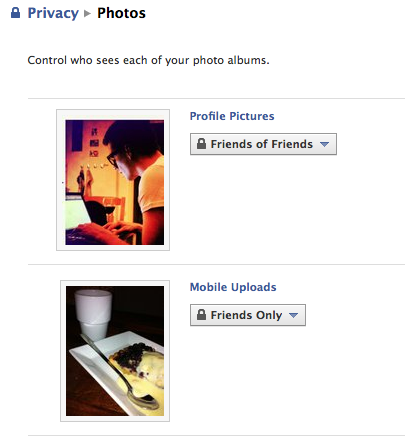 Play around and have fun
//Jesper