I just saw the coolest thing on my own Facebook Page. It seems as though Facebook will allow for demographic targeted updates on your Facebook Page status update and link sharing. You know the stuff that gets into the news or live feed of your Facebook Page Fans.
Targeting have previously been possible for those updates for pages that no one – and I mean NO ONE – reads. This new targeting makes it available to maintain your communication in the live feed or news feed of your fans yet, make the updates more relevant in local languages. Previously that was only possible with the next to worthless "Send an Update to Fans" link you could find in the left hand navigation under your "Edit page" link.
This has huge implications for companies running one page towards several different countries. You'll now be able to use one page yet update in local languages. Awesome!! Right?

I noticed a new little drop down next to the share button. I tried clicking Customize and up came a dialogue box. Wow I thought to myself. Is this possible. Have I just been blind?? No. This must be a new thing 🙂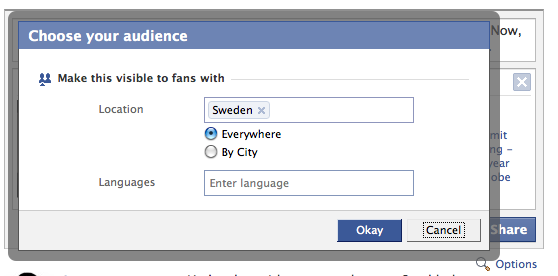 Once you've posted a story it will appear as a normal story for you on your Page wall. However, it will only be passed out to the people that fit the targeted audience you've set. I am unsure if it is visible for other people than the one's you've targeted, but either way, this way you'll be able to pass out more specific and relevant information to your Facebook Page fans!
And if you forget which of your fans you've sent updates to. Just hover the little symbol for segmentation found in the bottom of your posted story next to the Comment, Like, Share links:

And your segmentation appears.
I will probably do a follow up on this post, but I got so exited about that they finally released this. There has been a lot of talk about it, but no action 🙂
[UPDATE: This was supposedly rolled out in some areas on the 20th of November. I read a Mashable article on it from that date.
If you want to read that and the comments to it you should click here
.]