Right. So it is time for some of you speeders out there to get some advice on how you should secure your profile settings on Facebook. If you are running a Facebook Group then you especially have to pay notice to this. For Page owners it is easier as you always speak through the logo of your Facebook Page.
1. Basic Security settings for your Facebook profile
You'll find the settings button in the top right of your screen when logged into Facebook. If you hover the settings button with your pointer a drop down appears and you can select privacy settings.


2. Blocking your Enemies and Unwants
On the first view of the Privacy Settings page you'll have two types of actions to go through. I will start with the second of these two boxes. You are able to select individual users that you don't want to be able to see you in searches, see your updates etc. You simply block these people completely. I don't know who falls into that category for you, but for me one or two ex-girlfriends, one or two ex work mates etc, have been banned for life.
As you see you can block them even if you haven't connected yet on Facebook. This means that you can hedge the invites of those contacts you really don't want to be associated with. Block them out by entering their e-mail address and sit back. If you've already connected to them, you'll have to be a bit more sneaky, but you can still lock them out by starting to type their name in the name box and selecting them from the drop down list.
3. Creating Different Friend's lists
Before you actually go into this stage of privacy settings I suggest you go to your friends settings and create a couple of groups to which you can assign different privileges and rights on your page. You'll find the friend settings by clicking the Friends button in the top right navigation of your Facebook page.

After selecting the Friends option you'll come to a page where all your friends are listed in an alphabetical order. If you haven't created any friends lists previously you should start out by categorizing your friends into different groups which will later make it so much easier to select them. I usually put up a group called Work mates, Bosses, Retards and some other groups in order to make sure I set the right privileges to the right group.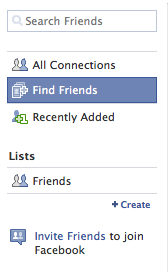 You'll create lists of friends by clicking the +Create link shown in the image above. As you do this a dialogue box in ajax will appear and you'll be able to give your new list a name and select the friends that belong to this list.

You can select one friend to several lists. The rule is that Facebook rather remove visibility for a person than permit something. Thus if you select the same person for two lists, the friend will be able to see only those things that are visible to both lists. If you are successful in adding your list it should appear in the left pane amongst your other lists.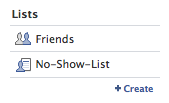 If you select that option by clicking it, all the friends you've added to that list should be listed in the center of the page.
4. General Privacy settings for profile
Ok. So now you go back to the Seccurity settings for your Facebook profile and start out by clicking the top choice which is Profile.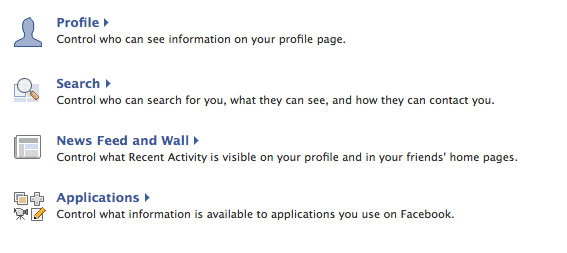 The first thing you should do if you've previously have set some kind of privacy settings and you want to change some settings for a specific user you should put their name in the search box to see what your settings are for that specific person. You'll also see a load of default values appear that say you are only visible to your friends. In the top navigation you should also pay notice to the two panes "Basic" and "Contact Information". You should remember to set the privacy for both of these according to your wishes.

For each of the different choices you should set preferred privacy setting. On most of them you'll find four different choices to select from.

Everyone – this option MEANS EVERYONE. Thus this information is publicly accessible by anyone that surfs the realm of Facebook.
Friends of Friends – this means that this piece of information becomes accessible by anyone who is a friend of someone you've befriended.
Only Friends – sort of says itself, but it becomes accessible only to the people who are  your friends
Customize… – this option allows for you to select a friend's list that you have special settings for. You can select an individual person and set special preferences for this person, but since that is time wasting I suggest you create a list, even though you only have one person in it. That way you can select a list to add new friends that fall into the category right when you are accepting their friend request. Simple enough. If you set your privacy settings correct the first time you don't have to come back here that many times again.
The dialogue box that opens when you click the Customize option, gives you the possibility to add the lists that you've previously created and disallow them to this specific information. That way you'll be able to control your Parents or relatives or bosses access to your party images, tagged images, or other stuff you don't want them to see.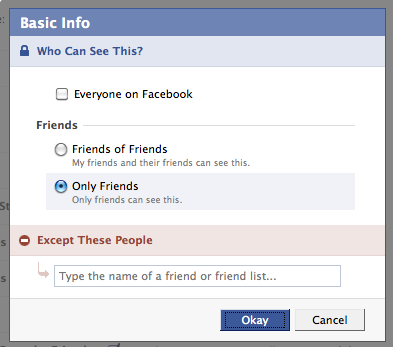 Just start typing the name of the list and it will appear in the ajax drop down. Click it to select it and you're set to go. Repeat this for all the options under the Profile Privacy Settings and you'll be up and running in no time.
5. Customize your Search visibility – IMP for those of you running FB Pages
Some people have reason not to be seen in the search results of Facebook. This is EXTREMELY important if you have broken the guidelines of Facebook and created a non existing or working profile for your Facebook Page or your Facebook Group. Especially if that avatar carries your name and your picture. Facebook hasn't found a good way to give companies "fake" profiles yet and since there is an intricate relationship between the creator of a page and the facebook page itself, it is highly recommended that you create a fake profile for the purpose of Facebook Page creation as described in previous tutorials.

First option I would in that case set to "only friends" and not "Everyone" as is the default settings. If you for any reason still would like to appear in the search results with your Profile connected to your Facebook Page, you should have a look at the next couple of options to see what you want to make public.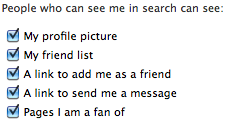 As you can see you can basically hide all that you want. I generally tend to set these to null except for the profile picture and A link to add me as a friend. The rest I leave unchecked.
Then you can select how you are publicly visible in the search engines outside Facebook.

This is a quite neat feature as it only takes a link from your blog to make this a first page result on your own name if you have any authority on your blog what so ever. A good way to crowd out bad search results on your own name 🙂 Also a good way to make the right image of yourself appear in the search engines image search. That is if you've given your profile picture your own name. After you've set these privacy settings you should be good to move on to the next step.
6. Setting the Visibility of your Activities
For all you flirters and online cheaters out there, this is the section where you should star paying a lot of notice. Even though your girlfriend/boyfriend isn't a friend of the persons image, status etc you're commenting, you can never rely on the fact that this person has set his or her privacy settings the correct way. In this section of your Facebook privacy settings you can make sure your respective person does not get to know what you're up to when hooking up through the online sphere.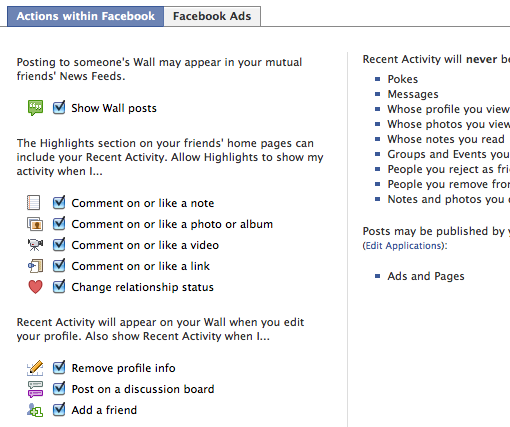 As you can see from the image above there is a tab that allows you to set the privacy of your Ads as well. I have all these settings checked as I believe that if you've allowed a friend on Facebook, then you have also allowed them to have a look into your life. And if you are hiding  stuff from your partner, then you might just want to consider breaking up instead of using these settings… just saying…
(yeye… I know… but I had already used the boss example and so this was a lot more relevant :))¨
7. Changing Permissions for Applications
I know you've added a couple of applications if you've been active on Facebook for a while. You have probably given these applications all the info you have in your profile just to enter some stupid competition or something like that. I suggest you remove an application when you don't need it. By removing the application you are NOT TAKING AWAY THEIR RIGHT TO YOUR DATA. This is Extremely important to understand.
In the privacy settings you find for applications from these settings you can only set general settings. Read through the rules for this and then click the settings tab to compose your general settings for Facebook applications.

In order to completely remove an application though you'll have to move onto another option in the privacy settings in the top navigation of your page. Just hover the Settings option in the top navigation again and select Application settings.

Once you've clicked this option you'll be able to fully remove all access to any application you've previously granted permission too. I suggest you look through this once a month at least as you in your desperate attempt to find "sad cows" generally tend to accept all applications sick corporations throw at you 🙂
Concluding remarks
There are a million different settings you can adapt and change into the best settings for you. These are the most important ones and you'll get a hang of it quite soon. Make a check list that suits your needs as a corporation or as a person. If you don't know what to set for the different options, you can just e-mail me or add me on skype (jesperastrom) and I'll give you a hand or an advice on how I would do it.