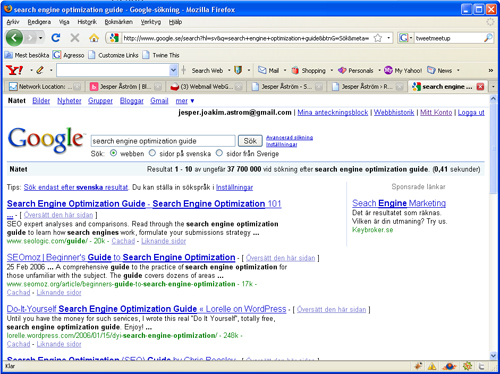 As the web seems to be completely lacking of Search Engine Optimization (SEO) guides (not) I figure I have to make a run for it. Jokes aside, I haven't found a really good guide that takes the user from a very basic level to a reasonably good level.
If you are a novice user who wants to learn more about Search Engine Optimization, you have come to the right place. You will be able to follow the guide by clicking the categories to the right. You can also find all the posts from nr 1 to nr X under the Search Engine Optimization (SEO) value in the top navigation.
About the guide:
100 – SEO Copy
200 – SEO pure XHTML Strict
300 – SEO site structure, navigation and internallinks
400 – SEO external links, semantic indexing and neighborhood techniques
500 – All other SEO
I will start out by writing a beginners post on each category and there after either write on demand under what cathegory I feel like. Feel free to post any questions you might have along the way and I will answer in the best fashion way that I can. If I am in a pissy mood I might flick you off. Please laugh at me if that would happen and make another try another day.
//Jesper