It is quite difficult to look at what each specific visitor does on your website through Google Analytics. However, if you are working as a consultant or a blogger you can track specific Network Locations of the visitors on your website. This generally means that you can see when someone from a company or an organization network has visited your website.
This information can be very good for you if you are selling B2B products. Especially if those products you are selling are based on the information you share in your blog. It can also be used as damage control if you've written something you don't want your employer to see. When that network location appears in your stats, well then you can start packing your box. 🙂
First The Video (Blocked in Germany… sry guys)

In the standard setup of Google Analytics you can find the Network Location information by:
1. Cecking out your Network Locations
a. Logging into your account

b. Selecting the report you want to view

c. Clicking the visitors link in the left navigation

d. Expanding the Network Properties drop down amongst the choices that appears

e. Clicking the choice Network Location

Now, if you are doing this for the first time you will most probably go bananas when you see all these companies visiting your website. All these anonymous visits all of a sudden get a name at least.

2. Network Operators vs. Company Networks
Sorry to have to make you sad. Most of these visitors have their network operator as their network location meaning that if they have bought their internet from some network service, then the network is what is listed here. Most private users look this way. Only companies and organizations and private users with their own networks will show up with their real names. This is a bummer but it is illegal in many countries to store the IP data without the specific consent of the user so I guess this is good enough. You'll at least find the important ones further down the list.
3. Finding a specific company
If you are looking for a specific company name in your list then you can segment your view by searching for that network name/company name in the search field at the bottom of the list. If you want to create a more advanced filter then click the option Advanced filter. This is not what this article is about, but I'll post something about it later.

4. Determine what the company is looking for
Yey! You'll play around for a while and you'll find some interesting company names for sure. When you click one of the names however you will only see some standard metrics for that network location.

To view some more specifics you can always choose some specifics for each website found through the drop down in the top left of your top pane.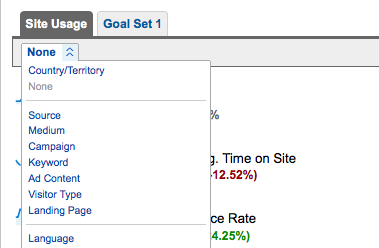 However. Although you can drill down quite deeply you cannot get an overview from these choices to all pages a specific network location have visited. If you are going to call a specific company and they have visited your website, then perhaps you can get a clue of what they are looking to buy by looking at what
keyword they used to get to your website as well as
what different topics on your website/blog they read.
You can get the answer to the first question by clicking the Keyword selection in the drop down displayed above. The second question needs to be retrieved by creating a custom report.
5. Creating a custom report to view all pages a specific Network Location has visited
So, now to what this tutorial is really all about namely how to create a custom report that displays all the pages a specific Network Location has visited. I know there might be other ways of doing this but I find this way to be most useful to me.
Creating a custom report
To create a custom report you look in the left of your screen. There you'll find a selection looking called "Custom Reporting" looking like this at the time of writing:

Click the link. If a drop down folds out and you see some links like in the example below, then you have probably done this before.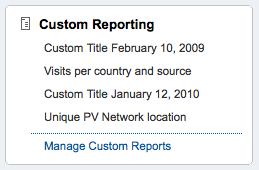 I cannot remember what this list looked like when there weren't any Custom Reports built so I am unsure what that looks like. The main point however is for you to get into the Manage Custom Reports area by clicking the link "Manage Custom Reports".
On the Manage custom Reports page you'll find a list of all your custom reports later on. From this view you'll be able to edit your reports as well by clicking one of the smaller links to the right of each report in the table. You can also share a specific custom report with another user or several other users which is good for many other reasons but the one I'm writing this article.

In your top right corner of the screen you'll find a MEGA BIG link that says:

Click this link.
Step 1: Setting your Custom report title
First thing you should do with your new custom report is to give it a descriptive name. Remember that you might want to do many of these reports in the future so try to be as specific as possible.
I am going to call this report "Pages visited by specific Network locations".

Step 2: Selecting a metric
Now, you'll see that you have metrics and dimensions to choose between in your left pane. Basically you can define a metric with "the number you want to measure" although that is a highly inaccurate description when talking to stats nerds. A dimension is what you want to measure that metric for.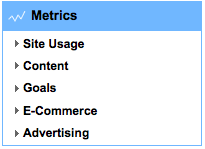 For this specific report I am going to click on Site Metrics and then select the option Pageviews. I select the pageview option by clicking Site metrics, then scrolling the list until I see the selection Pageviews and then dragging that selection to one of the boxes to the right for metrics.
Select:

Hold the mouse button down and drag it to one of the boxes to the right looking like this:

With a final result looking like this:
Now you might ask why I select Pageviews here instead of Unique Pageviews. Well, basically I want to see how interested a specific Network location or company is. Especially if I then look at sources for that network location and I find some kind of mail server in there 🙂 That means that someone in the company sent the link in a mail to another employee and that employee clicked the link. That generally says you have an internal ambassador … YEY!! Now all you have to do is to bait that ambassador to find out who it is and then make a connection.
Step 3: Selecting the Dimension
Now, we want to see how many Pageviews a specific Network location has made on a specific post. So let's find Network Location in our Dimensions and add it.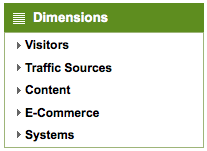 You'll find the Network Location dimension under the Systems drop down. In my list it is the second to last option when you have expanded the Systems dimension. Drag and drop the Network Location option in the same way as described above, but drop it in the gray area that says Dimension.

If successful your selection should look like this:

Now add Page title as a Sub Dimension in the same way but in a field below the main dimension.

Page title can be found under the dimension option Content. Drag and drop your selection to the sub dimension area to the right just as described above. If successful it will look a like this:

Step 4: Saving and checking your report
If you have done this correctly your selections should look like the image I display below. Once this looks the same way as here in this post, go ahead and go to the bottom and create the report. You can preview it, but as we all know, previews are for loosers. Just go ahead and create!!! (You can always go back and edit later ;))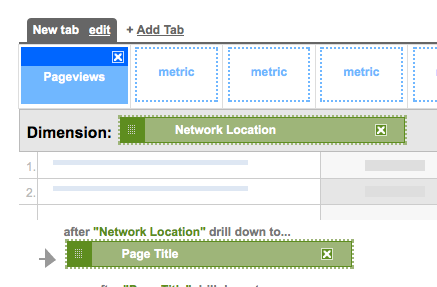 Then save the report by clicking "Create Report".

Now I know you are all itching to add more Dimensions and please do, but then the report won't tell you what I've promised above. What will happen if you choose to create the report now is that you will be directed to a standard reporting page. The difference being that it is focused on Network Location and Pageviews.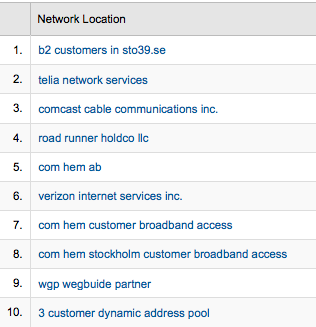 To the right in the table you'll find the amount of pageviews from each network location. If you want to filter this list to only see a specific company or network location you can filter it by putting a keyword in the search field in the bottom of the table just as described above.
Final result is
Now try to click one of the Network location names and you'll see all the names of the Pages they have visited.

And just like that you have created a custom report that you can easily reach by clicking the Custom Reporting option in your left pane at all times you are logged into your account.
//Jesper