The long awaited Pepsi Refresh Project comes to Sweden. I am happy to say that I am a part of the team working on it. For those of you who do not know what the Pepsi Refresh Project is (or PRP)…. it is a project where Pepsi takes a part of its marketing budget out of the pockets of advertising and into the pockets of you and your ideas. Apply for beta account here (Swedes only)
So how does the Pepsi Refresh Project work?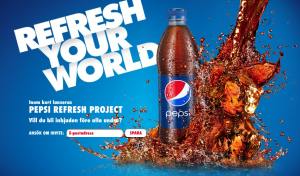 The project aims to give life to ideas in youth and inspire to entrepreneurship and activity. For this purpose, a HUB has been created online where ideas can be posted and gain support. Fair enough and it's heard of before… yeye… I know. But, there is a twist to it.
There are three types of ways to post ideas setup in a game of challenges. Right now, we are using three formats. We have headline challenges, Flash challenges and User generated challenges.
User generated challenges
The most important being the latter of the three, where users have the ability to crowd source any problem or challenge they might be facing in a day. Ok. You have a girlfriend with too much stuff, so you don't know what to give her… challenge others to come up with the idea. You have a grand mother who needs some inspiring fun…. challenge others to come up with an idea. You have a garden with too much space and too little creativity to know how to make use of it… you challenge others to come up with an idea on how to.
Simple enough right? You post the challenge, the other users post the ideas. We give you the HUB that makes this easy to use and to spread. The user who has posted the challenge decides if there is any reward involved and when the challenge ends.
Oh yeah… the best user challenge of the week will receive something nice I'll post in a later update…
Flash challenges
The Flash challenges are hosted by Pepsi. We get too you with a challenge that we pick up from society in one way or another. A user might have suggested they have a problem. We challenge the rest of the users to solve it and add a reward for the best idea published. A flash challenge lasts for 10 days.
Headline challenges
Then there are the headline challenges where we have decided on four specific topics where you will be able to post ideas on how to refresh'em. There will be a significant reward to the person who gets the best idea. Selection? Well, it is a mix of crowd sourcing and expert opinion.
Top 100 gets the chance to compete
Amongst the posted ideas, the top 100 are selected by a couple of gate keepers who, based upon the popularity of the content will select the most relevant to the competition. There might be some late runners who have trending growth on their submissions and thus we need to supervise this so that all ideas have the same chance to get to the last 100 even though they don't have the digital muscle to get enough applauds or are added in the early stages. Not completely perfect as that would have been a user governed system, but we want to give all ideas the possibility to qualify for the next round.
Crowd sourced knock out
The next round is the knock out phase. This phase will see the 100 ideas go down to a final 10 ideas within a couple of weeks. Users decide this process completely. There are some cool mechanisms here as well that give you the possibility to save knocked out ideas and that gives you credit if you're a good supporter.
Final 10 gets in front of a jury
The final 10 wins a sum of money each and gets to go to Stockholm where a jury containing 2 celebs and one expert for each challenge will select the winner who will receive a MASSIVE monetary award towards making their idea come true.
Badges & Trophies
Naturally, we have integrated all the badges and trophies as well as rewards to those who are active on the HUB. If you have an idea on how to reward a user, we might be able to make it happen. So keep me posted on that…
Help us with ideas on Facebook
We are currently building the Facebook Page for Pepsi Sweden. Please join and post ideas on how we can develop the Facebook presence as well as the HUB. We will try to make all good ideas come to life.