Yes, I know my reaction is late, but what the heck does a "promoted trend" tell you about the trend? Seriously, the new Twitter interface is beautiful, however, their business peeps must be stuck in the banner ages of marketing. Twitter has all the potential of offering users to get a buck by sharing/distributing sponsored content at a CPC basis. This would be profitable for both influential tweeps as it would be an interesting business model for Twitter.
Rev.share is the way to go in social media as the users provide most of the valuable content out there. On Twitter this could be put on steroids by offering segmented "paid tweet" suggestions in the right hand side of your control. Ie. tweet this and get 0.1 dollar for each click it generates.
Instead, Twitter turns to this solution… which I really don't understand. The promoted accounts are pretty straight forward. But what the heck does it mean if a trend is promoted? That it's not really a trend, but someone is willing to pay for it to become a trend? Or, does it mean that this will never become a trend and so we have to pay for it to get any exposure at all. There must be so much to write about 4G that is compelling enough to attract some social and viral initiative. But no. Some marketing agency or department out there has spent time and money for this to happen.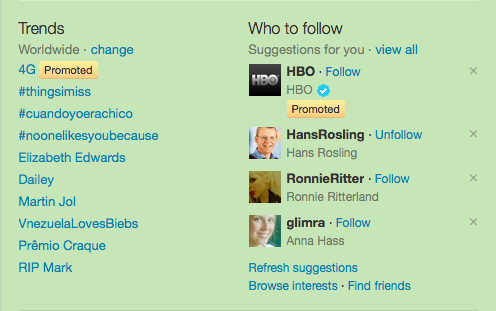 I had to investigate further in order to find out how and for what reason Twitter thinks I should buy this wicked format from them.
Twitter writes on their page about promoted tweets:
Promoted Tweets from our advertising partners are called out at the top of some Twitter.com search results pages.

Promoted Tweets are clearly labeled as "Promoted" when an advertiser is paying, but in every other respect they exist initially as regular Tweets and are organically sent to the timelines of their followers. They also retain all the functionality of a regular Tweet including replying, Retweeting, and favoriting. Promoted Tweets are displayed in search in Twitter.com and some of our ecosystem partners, and in user timelines for some users in Hootsuite.com.
Fair enough. That text makes sense. Search results should probably generate a tweet on top of the search pile that is sponsored. They've got to earn a buck from something. So, I can accept the promoted account and the promoted search result. But I cannot for the world understand the placement amongst the trending hashtags.
I guess this is where my logic stops making sense out of stuff. Perhaps that's why they are millionaires and I am a poor entrepreneur. It might work. I don't know. I simply don't understand the reasoning behind it.
Possibly related posts: