One of the biggest problems facing large organizations today is that of content. It might be a bold statement to make, but after consulting, working for, and producing for a series of large corporations I have seen patterns in their challenges. I have now managed to mold these different problems into 5 categories that I put underneath a common umbrella I have chosen the name "Content Governance" to denote. These five areas are:
Content lifetime
Duplicate content
Content ownership
Content findability
Content shareability
1. Content lifetime
Content lifetime is something that has intrigued me for the past few months. I have been trying to find a way in which I can effectively measure how lasting a piece of content will be in the early stages of its life. The common denominator for all long lasting content I have found is inbound links.
Stuff that receives a lot of inbound links, maintains its popularity over time. Not only in the search engines as one might assume, but it is also shared over longer periods of time in Social media. Content lifetime is central to all KPIs online today as it is not the content itself, but how it is used that effects how successful or not we are online. Especially if we still work in short campaign cycles where we need to increase the reach over time parameter in all our campaigns.
Content lifetime is also effected to some extent by the type of infrastructure or marketing it has to support it. Not all campaigns go viral, yet they can be highly successful non the less as they manage to target the correct audience. Word of mouth travels outside the web and is, as I have argued previously, also a result of product delivery according to promises stipulated.
Broken promises is one of the worst things you can be a part of as an online business owner (if they don't increase your inbound links a lot). Broken promises almost always kills your content on the spot. Regardless if it is a blog competition or a white paper people can download. See, once you start breaking promises, your infrastructure will become more costly to maintain and thus will not only hurt your capacity to manage your content over time, but will also increase the lifetime of your content objects. Why, you say? Well, your content will only live as long as it does not encounter your rumor. Depending on the density of the distrust, your content lifetime will be. (wow… Yoda sentence…)
2. Duplicate content
There are many forms of duplicate content, as well as reasons to care about it online. The two most common discussions regarding duplicate content appears when discussing SEO practice and social media technology.
Duplicate content – SEO challenges
How do you avoid duplicate content and meta on your own website?
How do you ensure that your published news origin source appear in the search engine result pages for related searches?
Duplicate content – Social media challenges
Cross technology activity
Time zone coverage of content
This discussion becomes quite apparent when you analyze multilingual content on several top level domains (TLD). Let's say you have a corporate policy that says you should offer all your services in local language and English. Let's also assume that you are also heavily regulated due to internal policies or country specific legislation. Let's just for the sake of it say you are a medical company publishing your product information online.
First off, the local language translation is no problem as most major search engines have the ability to understand that a local language translation on a local TLD is more relevant than one in English. (if your local language isn't English). But what about your centrally governed original text in English? This one will be the same for all URLs and thus duplicate content on all websites. IP range redirection is not considered cloaking, but Google will make notice of this redirection and probably value you less because of it. How do you solve this problem then? Well, local links is one way, but local links to English versions are difficult to obtain when marketing laws don't accept marketing of medical content in most countries and when most people anyhow would link to the local language version. Then, how the heck do you deal with this problem. Especially when you are a corporation dealing with a growing affiliate/spam problem and want to maintain within the guidelines of Google.
I must say that I have not come to a conclusion in this question except for internal linking. However, that is a delicate issue as you cannot do this excessively and between languages. Adding your website to Google Webmaster Tools might help, but this doesn't work for your rankings in Yahoo and Bing. However, adding the meta tags for geo location works in Bing, perhaps in Yahoo, so you should probably go ahead and do that. But perhaps your CMS doesn't allow for this as your website is built in 1996 and so you have to solve this some other way.
At this point you probably don't see the relevance in this anymore. But seriously, you should as you are probably stuck in one of them commerce systems from -84 that is localized for each country. You probably see the increased cost in those orders that end up in the wrong country and the increase in cost of customer service that is redirected due to international clients calling the wrong customer service or complaining that they cannot reach you in time. This is of extreme importance to you. You need your traffic to end up in relevant places. Thus, you have to solve these types of content problems when planning your online communication and publication of content. Duplicate content is one of the most herrendous problems out there as the web has turned social and sharing has turned into one of the major practices out there. You do not only compete with yourself but with the rest of the world about owning your brand. Thus you'll have to plan for this when starting your communication efforts in social media.
Don't just use RSS-feeds and auto publishing. This will lead to as much scraping and dup content as it will lead to irrelevance amongst those who are interested in what you have to say. I should probably write a complete blog post about that later. However, when working with governance of duplicate content you should give your employees enough freedom to work and rework the content you offer into a local context. I usually talk about allowing a culture washing occur before a content is published in any language on a local market. Do not care if it is how you would say it in English to an English audience, but care how it would sound in English to a local reader. Think in culture, level of English and always provide a link to further reading on the English website as well as a dynamically created purchase link depending on referral country. (In the above given example)
All problems aren't built like the one above, but it should be considered how you maintain unique content in all channels and not just on every specific website. As I've previously argued, a website is irrelevant on the web if not considered in terms of its unique and separate URLs.
3. Content ownership
A much more easily consumable question is that of content ownership. If you want to be successful online today, someone has to be the owner of the content you publish. This means that someone, and not something has to answer for it. If you publish a press release, you should clearly denote who will be in charge of answering to bloggers, journalists and such for each specific place where you are active.
Let's say you are active on Facebook in customer service issues, and you publish a piece of content on your website about prostitution scandals in Rwanda, then you also have to take into account that these will probably surface on Facebook as well. If you in your press release have directed questions to a specific person, then that should be the person who answers the questions, or at least appears to answer the questions on Facebook. I'm just saying, that users will expect the sender or owner of the content to actually have a dialogue with them about this content.
Without an owner of content you will have huge governance problems internally as well. If you do not own the content, you will have no responsibility for its performance. You have to be measured on the contents success online and you have to be accountable for its performance and the reactions that come from it. You should be rewarded if successful and probably spanked with a broom if it is not. If there is no sense of ownership of your published content, then your website will become a yard of waste rather than a communicative tool used by your employees to surface resources valuable to your corporate and product communications.
4. Content Findability
Content findability should be split into some separate thought silos of worries. First of is that of governing your contents structure, layout, design and disposition. This is important and can be monitored with several different tools. You should in contrast with this post
write a lot of bullets
Use plenty of sub headlines where it makes sense
Write short and concise sentences
All so that your on page findability is increased and the user easily can find what they search for on your web pages.
Secondly you should look at increasing your findabillity on other platforms than your own. If you look at a SERP like the one below, which is for my name. You can see that I cover the first page with search results leading to MY owned content all over the web. I have several social media accounts, blogs, newspaper articles and website pages that I have more or less control over. This makes it very easy for me to govern the first impression a user gets of me when searching for people with the same name as I.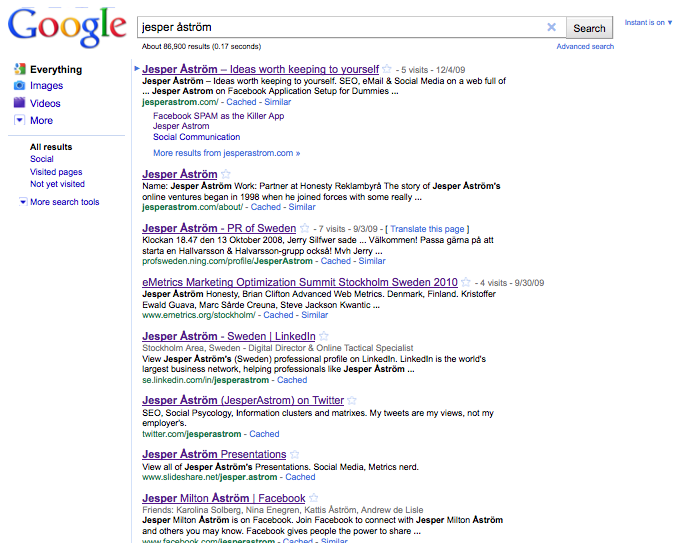 Third, you should look at findability from an on site search perspective. It is important that the approximately 25% of your visitors, who uses your internal search engine, get the proper results in their searches. If you cannot afford to buy your own search engine, Google offers you a free one that you can add to your website.
5. Content Shareability
To make some content shareable you have to give it a story worth talking about. You can either do this on your own website in a way where you add some reflections about why you added the content and how users can use it. Or you can do it by simply telling a short story whilst publishing it to an external platform. A good rule of thumb is that you make a statement or a promise, you then close discussion by narrowing the statement with a question. H&M is really good at doing this on Facebook and I suggest you visit their Facebook Page and have a look.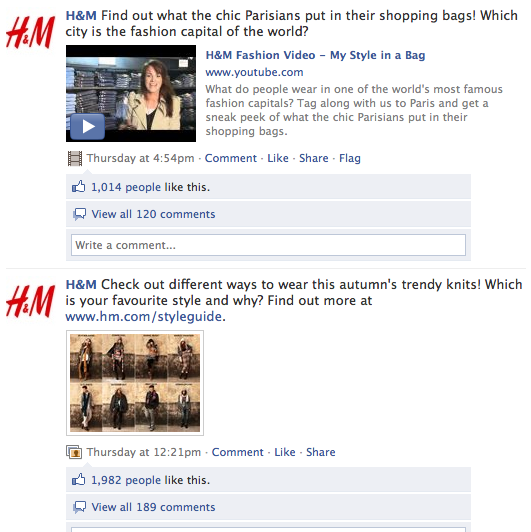 The way in which you govern this in large corporations and how this is then shared between users is basically up to you. If you set up a KPI you should try and measure change over time on whatever you measure as this tells you the pace and movement/direction of your content. You can also use one of the many social media monitoring tools out there on the market to see how your initial published content is being shared between users. Don't forget the story about the story. Add a tracker through bit.ly or #hashtag in order to see if people pick up the keywords you are trying to push.
Concluding thoughts
I am unsure whether or not this post makes any sense, but I wanted to write something about content governance/production to see if I could spark up a dialogue with other people interested in the same thing.
Possibly related posts:
Related posts on Content production
Related posts on Online Content
Related posts on Social media content