The diggbar has been the centre of some discussion since it got implemented by digg a couple of weeks ago. Basically the critizism is based on the fact that digg puts a digg-url on in the url-feild on top in the browser instead of making it the page url. The main argument is that people will link to digg instead of linking to the content website.

Diggbar link love dilemma
Linklove is power in Google and thus for competing verticals, this digg link love is crucial to stay on top of the SERPs. I can somehow understand that you get a bit queezy about this. But seriously, stop complaining, there are solutions. I don't like whining, I like improving and thus enabling the best of both worlds. Firstly, the super diggbar with the related articles, the easy to use digg function, the possibility to actually read full-lenght articles and still not have to browse back to Digg for more goodies. Secondly if I was you, I would rather start working with my landing pages to appeal to social media traffic.
Here are three ways which in combination with the diggbar really optimizes your visibility on the web.
1. Implementing a "write about this"/embed box
Make a highlighted box in the top right part of your article. Highlight it and put a form into it. The form should contain an embed code. Above or below the box write; "Blog about this" or "Write about this" or simply "Embed a reference in your content".
A good example of this is what Aftonbladet, a Swedish tabloid are doing: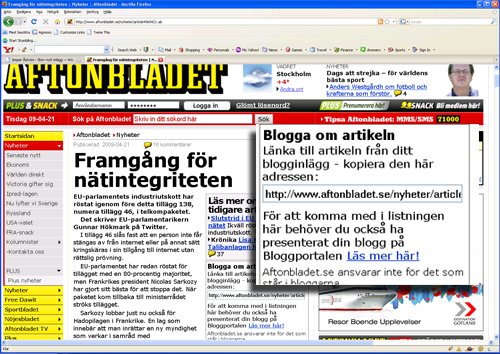 This actually gives you more links than you got even though there is no diggbar, so either way, you should try and find ways to implement this right away.
2. Source sensitive landing pages
Ie. if someone comes from a certain referral, they get one page, if they come from another, then they get another. This should be Google friendly as long as you do not cloak the website with loads of JavaScript implemented bullshit. The most simple implementation of this is one of those "Hello Digg user"-plugins that can be downloaded and implemented easily from wordpress.org.
If you do not use wordpress. Download the code, study it and rewrite it so that it works on your website. If you have problems doing this, I have a couple of friends who do stuff like that for a living. Add your name to my e-mail subscription and I'll pass you some really commercial spam along with their contact details.
However, the point is that you should get your users to subscribe somewhere so that you get to know a bit more about them as well as give them an opportunity to receive more of your wonderful content through e-mail notification updates or rss-feeds.
3. Make a comment on the posted story on digg
Wow… I am actually recommending you to interact with the users. Scary? Well, not at all. Digg users are generally very passionate about making Digg a good place. Write your url in the comment field, ask them what they liked, or didn't like about your content and perhaps even recommend them some other content that might be of similar interest to this viewer group.
If the story eventually reaches front page, then this will become extremely valuable work on your behalf as you'll be able to get A LOT of feedback in the comments field, thus given a chance to get valuable insight into how you can improve your content. (BAh… long sentence)
Final note
All of us digg-lovers out there who fell in love with the diggbar the first time we saw it really don't get where all the moaning is all about. If it is good for the user, then it should be good for the webmaster. Good webmasters know how to adapt to user behavior and still make loads of …. camels.
Digg this story: http://digg.com/tech_news/Why_good_Webmasters_Love_the_DiggBar
//Jesper