I was talking over Skype with my friend Peter Einarsson the other day. He asked me whether or not to use the ShareThis plugin for WordPress installations and social media buttons. Quite frankly, I get this question quite a lot as it is very simple to add the ShareThis plugin to a blog or a website. It is almost automagic. All hail to the ShareThis ppl for producing such an easy to install plugin.
However, I am quite reluctant to recommend the use of the plugin. Regardless of how easy it is to install it is counter productive when it comes to actually getting anyone to use it the way you want them to. Here are some reasons why:
There are too many choices, and they are all clustered underneith a sharethis icon thus hiding the goodies from the user
The user does not get any natural/artificial incentive to click any of the icons
If you add the ShareThis function hoping people will share, you will not have the time to check all those places
Users that are spread across too many platforms might get the sense that there are too few people at that place –> hence, your site is in the viewpoint of the user not as popular as he/she thought it was
Localization issues is allways a problem when it comes to sharethis buttons. Choose as many social media websites as possible in the local language. If there isn't a site in the language of the shareable content –> then try to share it on another site… but you will not have as great a success as you do on local alternatives
It is lazy… and however marginal you might think that lazy is, it really tells a story to your user… If you do not care, why should they??
Un-editable embed codes –> you SHALL put a link in the embed code to give yourself some link love for all types of embed codes…
I could probably go on for a while.. but I really hate negative people… so here to how you should do it…
The Mashable example – Subscription and Links
I really like the implementation that Mashable has done on their website. First of all they have put these icons in a central position of the website. Secondly they have designed their buttons themsleves and thirdly, they seem to have a strategy behind using them as they have selected a few, but not all.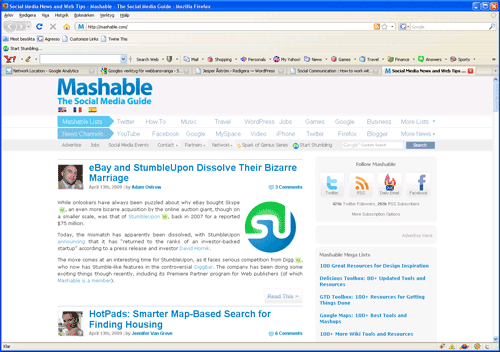 Do you see the icons? Well, you should also think about what kind of icons they have put there. These are the "Follow" or best case, "Interact" buttons. If you feel as though you cannot give them as much space as Mashable have, you should at least bundle them together with the subscription icons/texts as it gives more users a posibility to actually subscribe with ease.
On their posts however, they are using a different set of icons at the bottom of each page. Why do they do it like this you might ask? Well, basically it is because it is natural that they do it this way. They want links pointing to the correct place for all shared material. Think about it.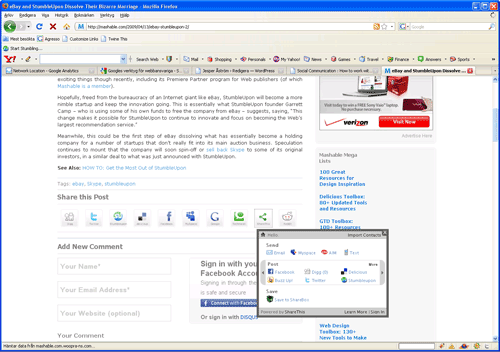 Imagine if you were to recommend a friend to read an article on the web and only gave the person the top domain as a source. Your friend is highly unlikely to find the material, if they do not spend a lot of time searching for it on the website. Especially at fast paced news websites, blogs or corporate websites that need their every news associated with their brand to appear high in the search engine results.
As I will tell you later, "deep links" ie. such links that point towards specific pages on your website and not to the home page are highly valued as they give you authority –> people are referencing many different parts of your website –> hence it must be given more value than a website with only one recommended page.
As you can see, mashable has actually put the sharethis icon in there amongst the others. That is a good thing to do if you get some anarchist users that want to share your website in other areas than what you have a strategy for. Offcourse –> you should not stop them. Just remember to put a tracker on the outlinks and you'll be able to see if there are any new social spheres where you should start engaging with the users.
The Urban Lifestyle example – Pushing for dialogue
Now I am giving Urban Lifestyle some credd here for a solution they are using for a more personal touch on social media bookmarks/connection. Why? Well, first of all I like their website. They have two choices in the top menu. "About" and "Connect with us". Plain and simple. What if more organizations would cut out the bullshit and focus on the important stuff. I am sure that increase their conversion of contacts on their website with a humungus percentage.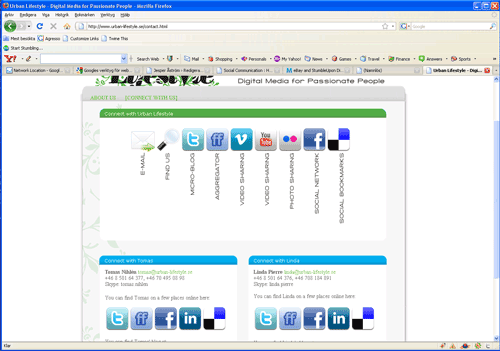 Secondly, this is a perfect example on how to use social media buttons for people. Think of it as if your website is your online business card, and social media is your 24/7 meeting place. If someone gets your business card, you sure as hell want them to give you a ring… (except if it is the IRS –> and yes, I know from my Google Analytics that I actually have visitors from the Swedish IRS to this website –> how cool is that 🙂 )
Anyhow –> My recommendation is hence to give all your web publishers, or important people or your information bosses or your all around best people social media pages on your website to work side by side with your other contact details. As it is easier to poke someone on Facebook, than it is poking someone you don't know in a public place –> let your customers or business contacts follow you for a while, make them ease themselves into knowing who you are, then they will almost be your friend at the first "real" contact which makes it so much easier.
Conclusion
Well, what I really wanted to say with this post is that you should really think twice before adding the sharethis button by itself. It is better than nothing, as you can track the traffic. But you should really think about where you want to interact with the users coming to and through your website. You should make a long term plan for how you should gain their trust and make them loyal customers/business partners.
If you have the resources to do everything. GO FOR IT. But most of you don't and so you should really choose some of the social media places/platforms where you want to interact and then make these easy choices for your users. That way you will gain the most out of your social media strategy.
And now you're still thinking –> So which ones should I use??? I say… Think about it… it will come to you..
//Jesper