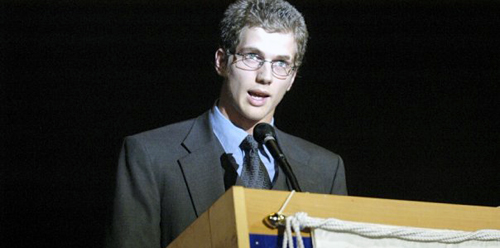 Picture taken from another speach I made at Göteborg University to a bunch of professors.
I held a talk on social media perspectives on the 15th of April. The audience consisted of a group of web analysts engaged in the network Web analytics wednesday. Below is the presentation that I shared with them. (Now translated into English)
Three main voices of Social Media Debate
Basically my theory is that there are three major voices in the social media debate right now. There are the evangelists, the marketers and then a group I would like to call Dr Data. This presentation tries to tell the story of how these three groups communicate what social media is, what is its value and also how it should be measured.
Not really perfect
It is in no way a perfect presentation, and it is kind of plain in its format. But my main point is that there is too much pullet proof lines between the three groups right now. We need to co-operate with eachother in order to build a sustainable web for the future. Only then will we be able to really increase the values of our business online.
Let's make loads of money
For you sensitive viewers out there… be adviced. I strongly argue that all activities a company does in social media should be aimed towards making money out of it. View this presentation as bullets. One perspective on three perspectives.
I know there are some parts of this presentation that needs explanation. Please make comments below and I'll try my best to explain.