My boss Björn Alberts once showed me an excellent (suckin' up big time) chart displaying the master matrix of any online web project. Since then I have basically made these types of matrixes as a way to structure my thoughts. This post will display one of those matrixes. Maybe not as useful as the one linked to above, but for organizations stuck in SEO-land, it might help with the visualization of where to go and what to do in order to go there.
Basically SEO centered business models rely on highly rational processes. The future models of making money online are however less rational and more behavioral.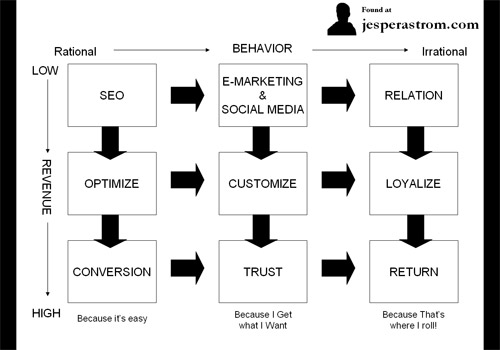 I am far from ready with the model above, but it combines the worlds of online marketing that is evolving right now. You might want to criticise it for its lack of banners. But I truely and passionately advocate against banners as a means of online sales and thus I keep it out of the model. Secondly I sincerely feel that any marketing that has not at least a long term connection to some kind of sales, is a waste of money.