Acting with a Social Pressrelease
As most social media depends upon dialogue, some kind of interaction between two or more people has to take place. In most cases this kind of interaction takes place with one person takes an action which is followed by a reaction, which can then be followed by another reaction etc. This chain of actions and reactions constitutes the social aspects of communicative exchange we use the internet and its social technologies to achieve.
This blogpost will focus on a good way of taking the first action in this chain of dialogue, namely through a Social Pressrelease.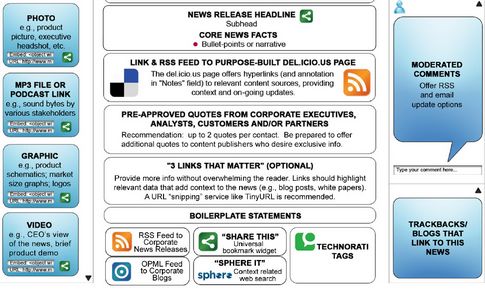 Source image : Masternewmedia.org
What you need in order to release your social pressrelease
There are some props you should acquire before getting started. All of the listed accounts and services are free of charge, eventhough the work it takes to assemble them all, and optimize them might come with some kind of consultancy fee if you are lazy or just don't have the time. (More on how to hire Jesper Åström hehe…)
Accounts you need:
Three blog accounts on three different platforms, such as WordPress, Typepad or Blogger
One account at a listed press service such as Cision, PR Newswire, PR Web or Newsdesk (this might actually cost you a buck or twohundred)
Four neatly written, highly keyword dense and semantically related press releases (one main release with the really important piece of information that you would like to spread)
Accounts on digg and stumbleupon
An account on friendfeed
An account on Bloggy, Twitter, Jaiku or any other microblog out there