To sum it all up, Facebook is truly trying their best to make all of your profile and activities, and interests and everything that you do on the platform truly social. They are not holding back anymore. All that you do, you do with someone. This is excellent.
The new Facebook profile Features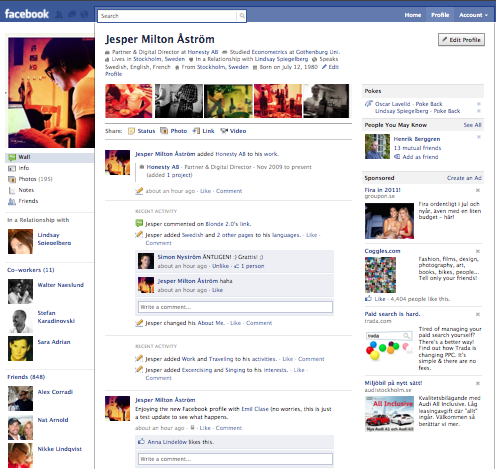 Profile begins with a quick summary of who you are
Give a more complete picture of how you spend your time
Showcase the things you care about most and connect with friends who share the same interests
Relationships with close friends can be just as important as family
Visit a friend's profile and see all the things you share in common
To see what it means and to make it your own, follow this link.
Privacy settings
Let's take the most important stuff first. As far as I can tell, the old privacy settings still hold although I got a bit worried there for a while….
Features
1. New display of who a person is in short
At the very top of your page there is a summary of you:

2. New messaging buttons top right
Top right you see the Poke and the Chat/send message (whether or not user is offline) buttons:

3. Better ads visibility
Wider and nicer ad space to the right which puts your ads in a much better light than before: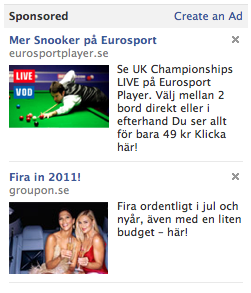 4. New sharing method
First post and then comment on links you share. I guess this is in order for them to thread discussions about the same resources better. Wouldn't be surprised if they add "common" discussions about shared resources and "discussions about your links on Facebook" to advertisers shortly. I am almost 100% that this will be integrated into the "insights" section.
1. Post the link

2. Post your comment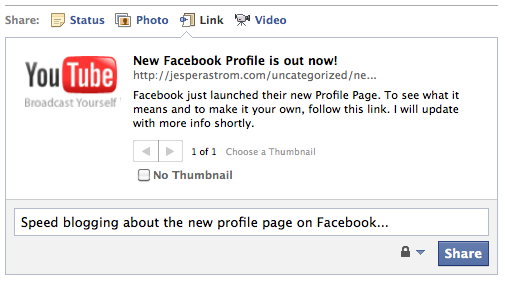 3. Share to wall

5. New and neat display/addition of your top likes and interests
Really neat addition of likes and interests which enables you to showcase your interests better. I sure as hell hope they connect this to social commerce shortly. It most definitively seems like it.

6. Adding what you like to do and with who you like to do it

7. Add projects to your work experience
This will be excellent in the long run as you will be able to extract full profiles and candidates for your recruitment processes.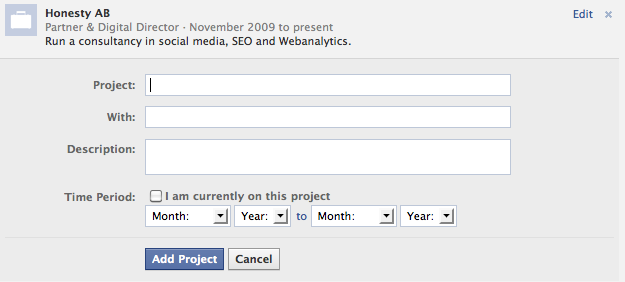 8. Seeing Christian Hernandez status updates
I just love it how I can stalk Christian Hernandez from Facebook UK without him accepting my friend request. I get all his updates although when I look at his profile I am not allowed to see his wall.

9. New sorting of friends
Go to your profile. Then click friends and you will see this display. Much easier to work with if you are looking for a specific person than the old thing.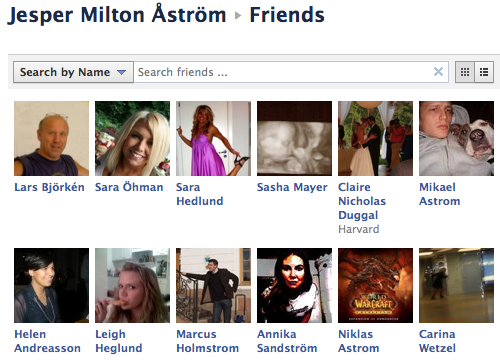 10. Adding Featured Relationships
Right, so this is how you do the highlighted relationship thingy.
1. Go to relationships under edit profile

2. Click create new list or Add existing list on the bottom of the page
3. Give your list a name and select the list members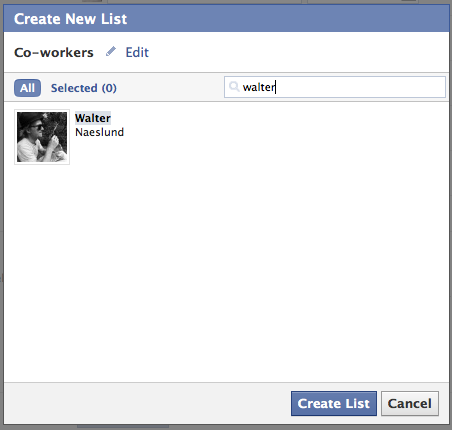 11. The relationship box
A box has been created on the right hand side of a profile you visit where you can see all the stuff that you are connected to that person through.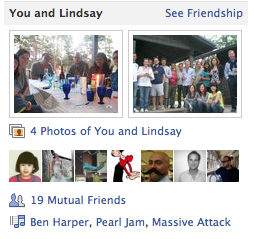 12. Where the heck did the Facebook profile tabs go?
Well they went out to the left of your profile just underneath your profile picture.